The Sedgemoor Business Excellence Awards 2016 – The Review
Wednesday 23rd March, 2016


The 2016 awards ceremony was held on the 17th March 2016 at the McMillan Theatre, Bridgwater.
The evening kicked off with a Champagne reception before moving to the dining room which looked stunning with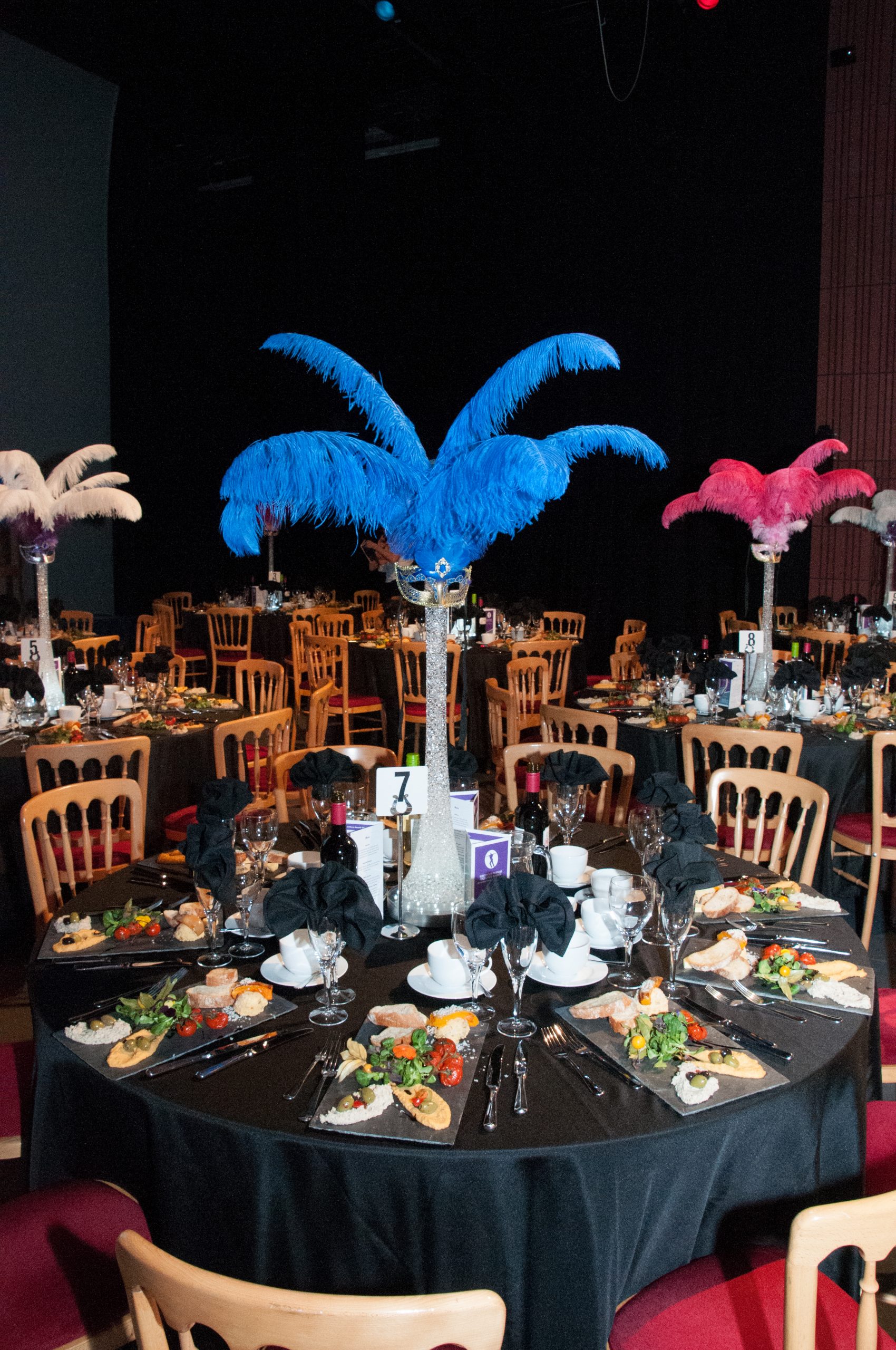 styled blue, white and purple palm tree table centre pieces.
The catering was prepared by Bridgwater College and the food was of the highest standard and praised by the guests. It truly was of high restaurant standard.
Suitably wined and dined the main event of the evening was introduced by Steve Leahy, Chairman of the Bridgwater Chamber of Commerce who handed over to Claire Carter from BBC Radio Somerset, our host for the awards presentations.
Our Guest Speaker for the evening was Alan Hurford from Bridgwater Town Council. Locally born and raised Alan has been Town Clerk for Bridgwater for the past 12 years and as an active member of Bridgwater Town Football Club for over 40 years he called on a wealth of local memories in an entertaining talk.
Special thanks must go to our independent judges, Cllr David Hall Somerset County Council, James Hester HSBC, Jason Kilduff Bridgwater College, Helen Lacey Red Berry Recruitment and Jonathan Langdon Milsted Langdon without whose careful deliberation of the submissions the evening would not be possible.
There were 11 categories and a list of winners and sponsors of each award are shown below.
A big thank you to our sponsors for their support.
The Young Entrepreneur of the Year and the Community Engagement Award were presented with a bursary of £1000 each. Levels Lamb will be using the £1000 to help towards building the business through marketing. Levels Lamb are passionate about the traceability and quality of their lamb – Grass fed, lamb meat boxes fresh from the farm – with the knowledge of how it was produced, even the fields it has grazed.
The bursary will be of massive help to the worthy winners of the Community Engagement Award, BARB search and rescue, who are a registered charity that relies solely on donations to run its service. Its annual running costs are over £30,000. No-one at BARB is paid – they are all volunteers – so every penny raised is put towards rescues, training and maintaining their equipment.
Membership of the Chamber of Commerce can help your business to excellence. Of the 11 awards, 5 winners, as voted by the independent judges, were members of the Chamber.
You can read more about the event and see more photos at www.sedgemoorbusinessawards.co.uk
International Trader of the Year – Micron Bio-Systems*
Family Business of the Year – Petruth Paddocks
Independent Trader of the Year – Timeless Images
Marketing Campaign of the Year – Pardoes Solicitors LLP*
Customer Service Excellence Award – Petruth Paddocks
New Business of the Year – Somerset Larder
Micro Business of the Year Award – Clavelshay Barn Restaurant*
Small Business of the Year – The Bower Inn Ltd*
Large Business of the Year – Bridgwater College*
Community Engagement Award – BARB
Young Entrepreneur of the of the Year – Levels Lamb
*Chamber Members