Eric Smith
Director at Double Brace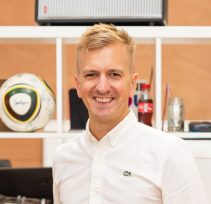 Based in Bridgwater, I am an experienced designer having worked in digital for over 15 years. I co-founded my own web agency Double Brace in 2013.
We work as an extension of our client's businesses by assisting them in their digital transformation journeys. This approach ensures they are ready for the future and provides them with the relevant tools to scale and become more profitable.
I have a true passion for design and creating user friendly websites and interfaces and have a strong belief that successful digital projects require a fine blend of creativity, performance and functionality.
I joined the Bridgwater Chamber board in late 2019 with the aim to help it's growth by providing digital support and engaging in conversations regarding these subjects with the wider community.