Bridgwater Chamber of Commerce Ignites Business Synergy with Hinkley PSG
Friday 6th October, 2023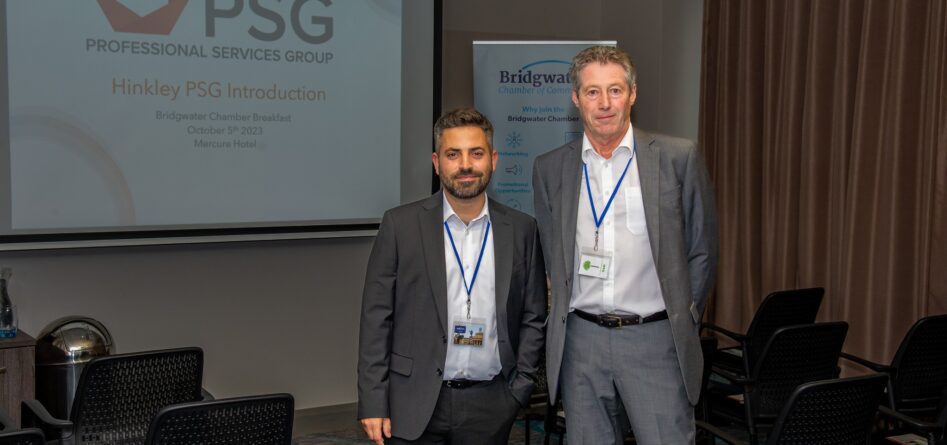 Bridgwater Chamber of Commerce hosted a thriving business networking event at the Mercure Hotel in Bridgwater, offering local entrepreneurs an opportunity to connect with Hinkley PSG (Professional Services Group). The event saw 40 business professionals coming together to foster collaboration, gain insights, and forge valuable connections for the growth of their businesses.
Hinkley PSG, founded in 2017, is an esteemed consortium of businesses with extensive experience in advising companies involved in the Hinkley Point C project, the largest construction project in Europe. This group of trusted advisors has not only contributed to the success of the Hinkley project but also extended their expertise to other relevant industries.
Nadine McLaughlin from Nespresso was also present giving attendees a taste of the fabulous Nespresso coffee from their very own coffee machines.
The Chamber was delighted to welcome Mark Walton, a Bridgwater Chamber Member and board member of Hinkley PSG, as the guest speaker. Mark provided valuable insights into the journey of Hinkley PSG, emphasising their commitment to collaboration and being trusted advisors to clients.
Diogo Rodrigues, Bridgwater Chamber Manager, highlighted the importance of the Hinkley PSG group, saying, "The Hinkley PSG plays a pivotal role in connecting local businesses with the Hinkley Point C project. Their collaborative approach and wealth of expertise have been instrumental in supporting the growth of our region's economy."
During the event, Mark Walton shed light on the current focus of Hinkley PSG, including the formation of a new board, membership expansion, and the benefits of joining the group. Members enjoy privileges such as using the PSG logo, access to internal and external networking events, and access to knowledge and know-how.
Looking forward, Hinkley PSG's objectives and goals are clear: to continue supporting the Hinkley Point C project, expand membership to include more diverse expertise, foster a collaborative culture, and maximize opportunities for all members.
Bridgwater Chamber of Commerce reaffirms its commitment to promoting Bridgwater as the business growth powerhouse of Somerset, facilitating events like these that empower local businesses.