Bridgwater Quayside Festival Summer Season
Friday 11th June, 2021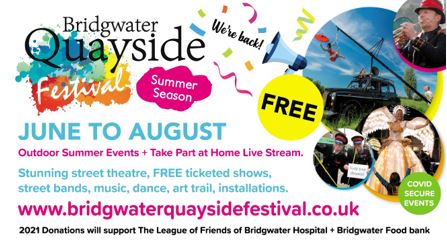 Fuse have been working behind the scenes to bring you a summer of outdoor arts ensuring everyone stays safe and healthy. We have had discussions with safety advisory groups, organisations, artists, councils and with our communities. We will be bringing you a summer season of online and live outdoor arts, circus and street arts. Stay tuned, Stay safe, stay healthy.
We are encouraging people to support local businesses and on July 10th  to Picnic in the Park and pick up a picnic from a local café, bakery, restaurant. We are raising funds for local charities – Bridgwater food bank and League of Friends of Bridgwater Hospital and encourage people to donate via the PayPal link on the website. 
If any businesses would like to promote themselves, we are more than happy to promote businesses in Bridgwater, we can visit them in the town centre and take a photo of the shop front to promote the summer season in Bridgwater.
Sally Mann – Artistic Director
Fuse Performance, Arts Projects, Festivals and Events Somerset Outdoor Arts
T: 01458 259638  
M: 07866771601
www.fuse.org.uk
Follow us on: Facebook, Instagram, Twitter @FuseOutdoorArts You Tube: Fuse Somerset Outdoor Arts