Mental Health at Work – Free Online Course
March 22 @ 10:00 am

-

1:00 pm

Free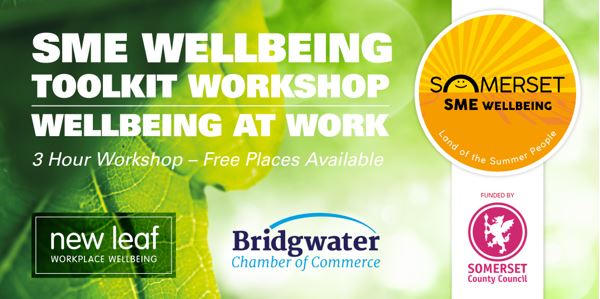 FREE SME Toolkit Workshop
This is your free opportunity to attend this exclusive workshop on how to support your own wellbeing and the wellbeing of your team.
New Leaf is working with the Somerset Public Health Team to deliver workplace emotional wellbeing training to small and medium sized (SME) businesses across Somerset.
The focus is on supporting those who have been impacted by Covid through the virus itself, experience of lockdown or the impact of the recession.
We know that SMEs' staff Mental Health problems has significantly impacted: staff productivity, such as need to fulfill multiple roles, acquire new skills, work under different environment with limited support, and pressure to avoid bottlenecks; business productivity – expected to meet higher demands and cope with supply uncertainties to make supply chain resilient and boost UK productivity, with the reduced workforce. This course aims to help resource you with the skills you need to support your own wellbeing and that of your staff.
The course is FREE for SME's, sole traders and micro providers working in:
Visitor Economy
Arts and entertainment
Construction
Health and social care
Farming and agriculture
Becky Wright is a member of Bridgwater Chamber of Commerce and a local Mental Health Trainer and SME owner. Becky will provide you with a SME Toolkit for Mental Health and Wellbeing.
This toolkit helps SMEs and Freelancers take positive actions to build a culture that champions good mental, physical health and wellbeing. The toolkit provides a greater understanding of how to help those who need more support. You will be provided with an SME Toolkit for Mental Health and Wellbeing.
This three-hour certified online interactive workshop will give you the opportunity to understand:
What is mental health?
What is stress?
Tips and techniques to stay well at work
Factors that affect mental health stigma and the impact
Types of mental health conditions – spotting the signs
Useful statistics and resources to access, Mental Health First Aid overview
Practical steps to aid others and toolkit of support for you and your employees
Introduction to SME Wellbeing initiative for Somerset.
Source Materials and joining instructions will be sent to delegates the day before the course by Bridgwater Chamber
Why has this course been developed?
Somerset's economy is predominantly made up of small businesses: 76% of the County's businesses have fewer than 5 employees and a further 13% have 5-9 employees. SMEs are the backbone of our economy, it's a sector bursting with talent, entrepreneurship, and potential. It is also one of the worst performing in terms of employee health outcomes, with one-third of SME employees experiencing a mental health problem during their working life (CIPD, 2016). Somerset Public Health have contracted New Leaf to deliver workplace emotional wellbeing and support for small and medium size businesses. The focus will be on the following sectors:
Visitor Economy
Arts and Entertainment
Construction
Health and social care
Farming and Agriculture
Many SMEs say that they struggle to access mental health provision due to the costs involved or they do not know what to buy to best support their employees. This workshop will provide a good introduction to Mental Health and equip you with a toolkit that you can start using in your business. You will be invited to implement 5 key aspects of wellbeing into your business.
Putting well-being at the heart of workplace design will allow us to grow a new world of work where we can look after our well-being and engage in this new economy and feel well in our being.
We are pleased to announce that our course has been independently evaluated for Continuing Professional Development purposes by The CPD Certification Service. This means our course complies with universally accepted principles of Continual Professional Development (CPD) and has been structured to meet the criteria of personal development plans. You will be asked to complete a pre and post course questionnaire in order to attend the training.
Note: Participants need to attend all three hours to receive their CPD UK Certification.
Feedback from previous attendees
Laura O'Driscoll:
'To see a change we all have to BE the change. We can now embrace mental health and wellbeing into our businesses and support ourselves and our employees. For me that means educating myself, putting into practise what I have learnt for my own business and helping my clients understand it too'.
Juliet Love:
"Thank you both for a really great session – I thoroughly enjoyed it and am really looking forward to the 2 day workshop when it happens."
Sue Calvert:
"Thank you for such an informative session – I have learnt so much but am not overwhelmed as the workshop was nicely paced and interactive. I will be able to use what I have learned in both a work and non-work setting."
To watch a short clip from Becky with information about the course: