Mental Health One Day Awareness Training For Line Managers Bridgwater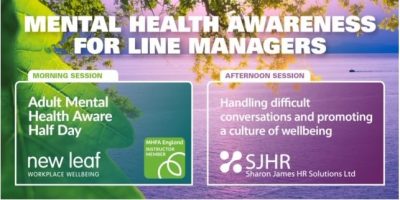 Tue, 21 January 2020        09:00 – 17:00 GMT
Holiday Inn Express Bridgwater, Market Way, Bridgwater  TA6 6DF
Line Managers are ideally positioned to make the biggest difference to mental health in the workplace, but few know what to say or do!
Becky Wright and Sharon James have created a one day course where the first part is the Mental Health MHFA Half Day Aware Course followed by part two which looks at how to handle difficult conversations and create a positive culture of well-being in the workplace.
About this Event
Employers have a responsibility to be proactive in developing positive mental health pathways. This should include training line managers to spot the early warning signs of mental health and provide them with the skills and confidence needed to intervene and have the supportive conversations necessary.
Training is part of the answer but should support an organisational culture of employee wellbeing.
This training aims to give line managers mental health awareness, essential communication skills to handle difficult conversations, and a broader understanding of how to promote a culture of wellbeing.
Mental Health Awareness for Line Managers
The first part of the day is Adult Mental Health Aware Half Day Programme which includes
What is mental health?
Mental Health Continuum
– Factors which affect mental health – Stigma
– Stress and stress management
– Spotting signs of distress
Mental Health Conditions
– Depression – Anxiety disorders – Psychosis – Eating disorders – Suicide – Self-harm
Self Care, Signposting and Resources
Recovery
– Take 10 Together – starting a supportive conversation
Supporting mental health in the workplace Useful statistics
Helpful resources
The second part of the day is focussing on handling difficult conversations and promoting a culture of wellbeing to include:
Handling difficult conversations
– Understanding the key elements of communication – Situations that might trigger a difficult conversation – Planning and holding a difficult conversation
– What to do next
Promoting a culture of wellbeing
– Employee lifecycle – touch points for communicating wellbeing approach and mental health awareness
– Know your Wellbeing Policy
– Mental Health First Aiders
– Creating a Wellbeing Action Plan
– Other wellbeing actions and initiatives
£149.00 per place
(Over 50% of places already gone so book early to avoid disappointment!)
Organisers
Becky Wright and Sharon James