Ruby Ball – Celebrating Brainwave's 40th Anniversary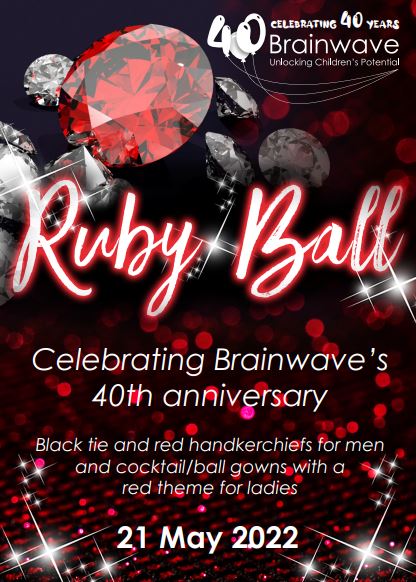 We have our first ever fundraising ball in the SW on 21 May, at Taunton Cricket Club, (rearranged from December 2021), and this is part of our 40th anniversary celebrations, see flyer attached.
The pandemic has been tough for everyone, particularly the families we support and our finances, with over £1m in lost revenue. We don't receive any government funding with all our income being self- generated through events such as these.
Join us and our Patrons, Lord and Lady Fellowes, for a fizz drinks reception, three-course dinner with
entertainment from the Hooper Band and Somerset Songbirds, and a fantastic raffle and auction.
Saturday 21 May 2022
Drinks reception at 7,30pm
Venue Somerset County Cricket Club
Carriages for 1am
The money raised at this event will ensure Brainwave can continue helping children with disabilities achieve
greater independence, by providing their range of specialist therapies.
To book a table of 10 for £500,
please contact Joanne Freeman
by the 31 March 2022.
[email protected] | 07872 411 580