Community VIP Tom officially opens The Old Vicarage
Monday 10th June, 2019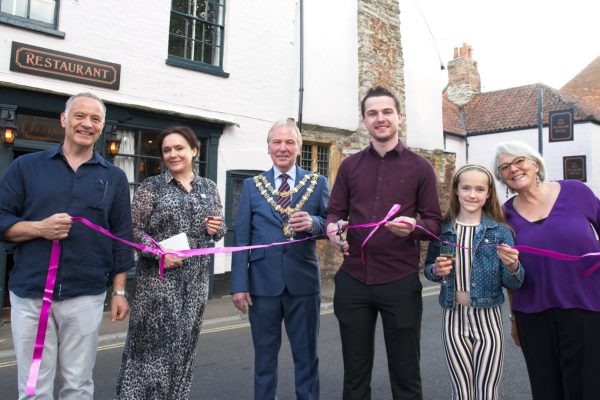 A CHILDREN'S charity fundraiser from Bridgwater recently (Saturday, June 8, 2019) officially declared The Old Vicarage – one of the oldest hotels and restaurants in the town – open.
Tom Winchester, who was nominated by the community, was joined by Bridgwater Mayor Councillor Tony Heywood and his Mayoress Lily Heywood, as well as owners Peter Starling and Candida Leaver.
The 19-year-old, who was nominated due to his fundraising efforts for the Above and Beyond charity for Bristol Children's Hospital, said: "It was fantastic news when I found out I was nominated to help officially open The Old Vicarage and I really enjoyed cutting the ribbon, meeting everyone and seeing the new hotel and restaurant.
"I am extremely grateful to everyone who nominated me and would like to say a huge 'thank you' to them. I will never be able to say thank you enough to the hospital and surgeon who saved my life, but I hope that my fundraising goes some way towards helping. I would like to donate my meal for two as a prize for my upcoming charity pub quiz."
At the age of five and after many hospital appointments, Tom was diagnosed with a life-threatening brain tumour. It was removed after diagnosis and results showed it was benign.
When Tom was 15, he decided he wanted to give something back to the team that saved his life. He hosted numerous fundraising events including school discos, sponsored walks, a football match and a concert at the Bridgwater Town Hall. Through these events he raised £6,300, which was presented to Above and Beyond for Bristol Children's Hospital and the surgeon, Mike Carter, who performed the operation on Tom.
Tom is currently about to complete his A-Levels at Bridgwater and Taunton College and has decided to try and up his fundraising total to £10,000 before he heads off to University.
Above and Beyond is the official charity for all hospitals within the University Hospitals Bristol NHS Foundation. It funds projects that make a difference to patients, families and the staff who treat them in Bristol city centre hospitals.
Tom added: "It's the best feeling in the world to raise so much money for the children's hospital, knowing how it helps the children, getting recognition such as this just puts the cherry on top of the cake, it's amazing!"
The Old Vicarage on St. Mary Street is located in Bridgwater's town centre and has a south facing patio and garden within its central courtyard, which is accessed by an ancient archway, once used by horses and carriages and made in part from visible wattle and daub. It is just one of the few Grade II listed buildings in Bridgwater and dates back to 1327.
Husband and wife team Peter and Candida are renovating the Grade II listed property section-by-section and have already re-opened the hotel's restaurant and kitchen as well as some bedrooms.
Peter, Co-owner of The Old Vicarage, said: "We were thrilled that Tom could help us officially open the hotel and restaurant. We received lots of nominations due to the work that he does, so it was wonderful to show our thanks in a small way.
"He was our VIP for the evening, and he received a guided tour of the building and our new rooms and will enjoy a complimentary meal for two at a mutually agreeable time as part of his prize.
"We were also honoured to be joined by Bridgwater Mayor Cllr Tony Heywood and his Mayoress Lily for the occasion and we're extremely thankful to them for taking the time to come along and find out more about us."
The Old Vicarage is currently open from Tuesday to Saturday from 12noon until 3pm, serving lunches from 12.30pm until 2.30pm and from 6pm until 11pm, serving evening meals from 6.30pm until 9pm. It is also open on Sundays from 12noon until 3pm and serving lunches from 12.30pm until 2.30pm.
People are welcome to drop in for a meal without booking a table or they can enjoy a drink at the bar.
Peter added: "The Old Vicarage is a charming building with some wonderful historical links to Bridgwater's past including reputably being the place Judge Jeffreys stayed and, also, providing lodgings for Isambard Kingdom Brunel, who designed the train station, also Grade II listed, and a bridge in the town. The hotel is at the very heart of Bridgwater and has desperately needed some TLC.
"We fell in love with it when we first looked around last year and have been working hard behind the scenes to get our trusted and loyal suppliers, and our award-winning team, back together again to take this venture forward.
"We're delighted we've been able to take this unique property on and are very excited about the prospect of offering something new to the discerning residents of Bridgwater, the surrounding area and, also, anyone further afield wishing to stay here. We're proud of Bridgwater and are really pleased we've been able to find another property for us to renovate and bring back to life in the town.
"Being part of the community is vital to us, so anyone who would like to drop in anytime we're open, from now onwards, can look around the property to see the work we've done. They can stop for a coffee or lunch or dinner if they fancy too."
For further details about The Old Vicarage, which is on St. Mary Street in Bridgwater, please call 01278 458891. Alternatively, please follow on Facebook at www.facebook.com/oldvicaragebridgwater or on Twitter @oldvicaragebri.