Congratulations to the Finalists in the Bristol, Bath and Somerset Tourism Awards 2021/22
Monday 17th January, 2022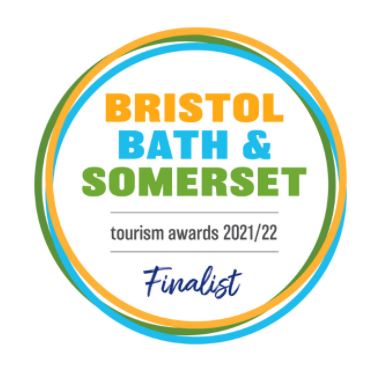 The Finalists have been announced today for the 2021/22 Bristol, Bath and Somerset Tourism Awards.  They will now have to wait until the online Awards Day on 17 February to learn whether they have won Gold, Silver, Bronze or a Special award.  A further two businesses received Commended status.
The 6th year of the competition has been run in unprecedented times for tourism, but the focus on excellence and feedback for entrants has remained as relevant as ever.
Deborah Heather from headline sponsors Quality in Tourism says "As Quality in Tourism we're always proud to be headline sponsors of the county awards and Bristol, Bath and Somerset has so much to offer, such diversity and individuality, it really is a very special place to visit, work and live, and we can't wait to celebrate with all those wonderful tourism businesses out there".
Awards organiser Nell Barrington added: "After what has been once again a truly challenging year for tourism and hospitality it is great to be able to share good news and I look forward to celebrating with all the finalists. Huge congratulations to them all."
Kathryn Davis, Visit West, says "Congratulations to all finalists in the Bristol, Bath and Somerset Tourism Awards, and we are thrilled to see so many Visit West members featured. In what has been another exceptionally difficult year for the industry, the quality of the experience in the region has only increased and our business community should be applauded for their resilience and innovation. We're looking forward to the finals next month to discover who will be representing the area in the wider South West Awards."
Giles Adams, Visit Somerset, added "It is so important that our visitor economy has a strong and consistent recovery from the last two years. Quality and service will spearhead this journey and the tourism awards justly recognise the leaders who will demonstrate why Somerset is up there with the best of tourist destinations."
For a full list of Finalists and Commended visit https://www.somersettourismawards.org.uk/2021-finalist-and-commended