Fore Street Update ahead of the Quayside Festival
Thursday 18th July, 2019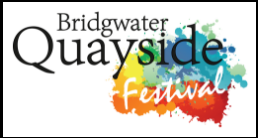 The fabulous Quayside Festival hits Bridgwater this Saturday when crowds will enjoy the varied and free entertainment. There is good news in that the majority of the improvement work around the West Quay/Binford Place junction is now complete and six mature trees have been planted on High Street and Fore Street.
As with major improvement projects of this kind, there has been a few challenges. Sedgemoor District Council's contractors, Alun Griffiths, have been faced with finding unregistered electricity and gas services and an unexpected drain. This has meant their initial works have taken a while longer than anticipated and work will have to continue after the Quayside Festival and into August. However, the town centre will be clear of machines, materials and contractors over the weekend to ensure the Festival can proceed safely and as planned.
Visitors to the town centre may notice some temporary finishes to the area where the works are taking place but these will be finished off and smartened up when the contractors start on site again on Monday 22nd July. Given the time of year and the hot weather, some of the planted trees may lose their leaves but they should grow back next spring as they are strong, mature specimens. A number of additional trees have been ordered and will be planted in suitable green spaces across the town.
Thank you for the continued patience whilst these works are completed.
The £130,000 improvement scheme will see de-cluttering and freshening up of street furniture such as seats, lamp posts, cycle racks; updating and improved signage and replacement of dying and diseased trees, as well as reconfiguring of the raised area at West Quay, all intended to create an improved environment and experience for town centre visitors.