Free Training Sessions for SME's
Tuesday 1st October, 2019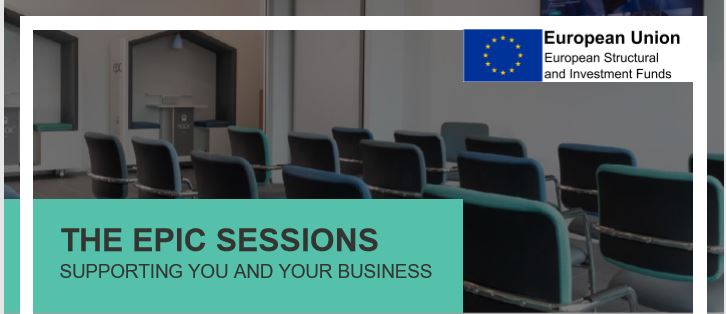 EPIC
The EPIC Sessions consist of a series of seminars both on latest manufacturing techniques, technology and the grass roots of running your business.
What's on offer?
EPIC tenants and members, and other eligible businesses, will be able to access fully-funded workshops and seminars. These events will cover various topics highlighted as priority areas for SMEs. The programme runs from October 2019 to December 2020 during which businesses will be able to attend multiple sessions to support their needs.
Click hyperlink to find out more and book
**IMPORTANT**
To be eligible for this programme of support for businesses you should be an SME the definition of which is that you have fewer than 250 employees and either a turnover not exceeding €50M (£36.5M) or an annual balance sheet total not exceeding €43M (£31.4M). The definition of an SME is important for access to finance to fully fund this EU support programme
The value of the EPIC sessions is £500 per day.
As proof of trade for our funders we will require:
If you are a Limited Company, or a CIC, you will be asked for your company number.
If you a Sole Trader or Partnership we will need a copy of your Unique Taxpayer Reference (UTR) number. For more information about where to find your UTR number please click here https://www.registeredaddress.co.uk/blog/where-ismy-utr-number
When you book on to the session we will e-mail you a simple form for you to fill out and bring with you that will include this information. If you require it one of the EPIC business advisors will be on hand at the session to help you