Great News! ~ The Old Vicarage welcomes diners once again
Friday 17th May, 2019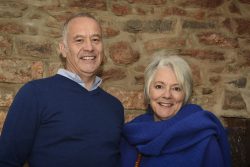 THE NEW owners of The Old Vicarage hotel in Bridgwater are taking (May 21 onwards, 2019) dinner bookings after refurbishing the property's kitchen and restaurant and will welcome diners again after years of closure.
Husband and wife team Peter Starling and Candida Leaver have renovated the Grade II listed property's restaurant and are open for bookings, so Bridgwater residents can see the results ahead of its official invite-only launch on June 8.
Candida said: "The renovation of the restaurant has been a huge success and it is looking fantastic. We are planning an invitation-only grand launch in June but are able to take bookings now from anyone who wants to dine with us. We can't wait for people to see what we've done and try out our menus.
"The Old Vicarage used to be THE place to dine back in its heyday in the 1980s and it has since fallen from grace under owners who haven't been concerned about its food offering, we're opening up the restaurant to non-resident guests after it has remained closed for many years, so this is quite a momentous occasion. We'd like to extend a warm welcome to diners old and new!
"Our team of chefs headed up by Dan Lay, who used to work with us at The Bower Inn, also in Bridgwater, have been busy working on a fabulous menu that we think the people of Bridgwater will thoroughly enjoy.
"Some of the dishes on the menu include a duck liver parfait, homemade onion chutney and rosemary soda bread starter, a main of crab linguine with red pesto, cherry tomatoes and fresh chili and desserts including chocolate torte with fresh raspberries and sticky date pudding with butterscotch sauce and honeycomb ice-cream."
Anyone who would like to book a table can do so by calling 01278 458891.
The Old Vicarage's license currently only allows it to serve alcoholic drinks to residents and diners who have booked in, so cannot serve drop-ins.
Candida added: "The Old Vicarage is a charming building with some wonderful historical links to Bridgwater's past including reputably being the place Judge Jeffreys stayed and, also, providing lodgings for Isambard Kingdom Brunel, who designed the train station, also Grade II listed, and a bridge in the town. The hotel is at the very heart of Bridgwater and it desperately needs some TLC.
"We fell in love with it when we first looked around last year and have been working hard behind the scenes to get our trusted and loyal suppliers, and our award-winning team, back together again to take this venture forward.
"We're delighted we've been able to take this unique property on and are very excited about the prospect of offering something new to the discerning residents of Bridgwater, the surrounding area and, also, anyone further afield wishing to stay here. We're proud of Bridgwater and are really pleased we've been able to find another property for us to renovate and bring back to life in the town."
The Old Vicarage is located in the town centre and has a south facing patio and garden within its central courtyard, which is accessed by an ancient archway, once used by horses and carriages and made in part from visible wattle and daub.
It is just one of the few Grade II listed buildings in Bridgwater and dates back to 1327.
Before taking on The Old Vicarage, Candida and Peter owned The Bower Inn. They bought it in 2010 when it was a rundown and empty country pub and spent seven years revamping the inn's fortunes and creating a highly successful pub, restaurant and boutique hotel with an excellent reputation for ambience, customer service and food. They sold the business in November 2017 to the Butcombe Pubs chain.
"At The Bower all our bedrooms featured chic vintage furniture and accessories, some dating back to the 1820s, mixed with all the requirements a modern traveller would expect. We'll be bringing our flair for design and our knowledge of the market and what the discerning customer expects to The Old Vicarage too.
"As hoteliers, we're very flexible and will go that extra mile to welcome our guests and be accommodating. Being a small, friendly, family-run, independent operation means we are highly proactive and customer-focused."
Peter, Candida and the team will have the bedrooms they have refurbished so far available for booking from June 1 too.
For further details about The Old Vicarage, which is on St. Mary Street in Bridgwater, please call 01278 458891 or visit www.facebook.com/oldvicaragebridgwater.