Hinkley C Project Update November 16
Tuesday 15th November, 2016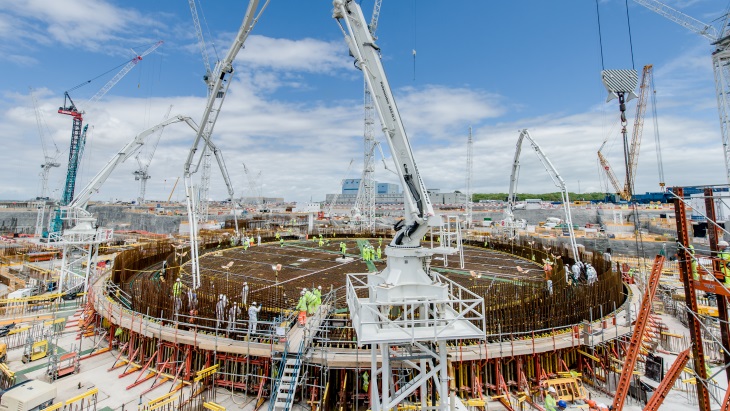 Hinkley C Project Update
Following the final contracts signing between EDF Energy, Chinese investment partner CGN and UK Government on September 29th, we have finally got the go ahead for the construction of Hinkley C.
When discussing this project six years ago the local business community got very excited only to see the project get delayed and delayed, which has meant a slight delay in the speed contractors and all involved can react and will now take time to mobilise and in reality I feel that it will be in the new year and spring when we see the real work start to take place. Contracts still have to be negotiated and awarded, with many details to iron out. Even if some of these contracts get agreed in the next few weeks, it will take time to gear up for projects of this size.
The Hinkley C project is now beginning its main construction phase, we will in conjunction with the Somerset Chamber Supply Chain keep you informed about the latest project news, work package information and to who the latest contracts get awarded.
What is happening now on site?EDF have an online interactive map which allows you to visit the Hinkley Point C construction site for a virtual tour. Find out about key construction activities taking place, including the temporary jetty, the concrete batching plant and other activities.

Anyone can get more details by going to https://contactus.hpcenquiries.com/ enter your details and email address and you will get regular project updates.

Please get in touch with us if you feel that you don't understand how to get involved or have any queries?

Steve Leahy (Chairman, Bridgwater Chamber of Commerce)
Somerset Chamber Supply Chain Engagement Update ( From Dale Edwards)The Hinkley Supply Chain Team (a collaborative team from Somerset Chamber of Commerce,SWMAS Ltd and Business West) has been working with EDF Energy for a number of years to capture the capability of suppliers interested in the project and to engage with main contractors in order to identify the work package opportunities for the South West supply chain.

Once suppliers register on the Hinkley Supply Chain Portal with accurate information on core capabilities, this is then mapped against project requirements to help the Hinkley Supply Chain Team source relevant suppliers for work packages identified. Main contractors can also log in to search for and make direct enquiries to registered suppliers.

Supply chain engagement results so far include facilitating the responses from 6 local supplier consortia (25 suppliers) for a range of site services that resulted in contract awards of circa £435 million being awarded. We are expecting more opportunities to arise within site services activity at Hinkley C.

In addition to the site services activity, we are working with the construction Tier 1 contractors to increase local supplier engagement. We are engaged with Kier BAM, Costain and BYLOR procurement teams to identify work packages with potential for local supplier engagement. In the last 6 months we have identified and promoted a range of suppliers for work packages requirements within the Earthworks, Park and Ride, Jetty and Marine Works contracts. This work continues and we are now engaging with more main contractors in line with the project program.
SEIC Update 
The Somerset Energy Innovation Centre is going from strength to strength with the latest cohort of new tenants including EDF Energy, Kier BAM and local supply chain consortia FACE, HOST and Somerset Passenger Solutions.  Having the mix of Tier 1s and local companies in the building alongside the HPC supply chain team is proving to be a winning mix, with introductions being made and new relationships emerging that should see an increasing amount of supply chain activity delivered by local business.
For those not looking for an office space, but want to be part of the centre and the activities we deliver, our new dedicated desk offer is a great solution.  Taking a desk on easy in, easy out terms is gives you a physical presence in the building and opens up the same opportunities and access to our facilities that our larger tenants receive. Not to mention, access to our new cafe, run by Somerset Larder and providing some of Somerset's finest local produce for your lunch.
You can find more details about the Somerset Energy Innovation Centre at  http://www.somersetenergyinnovationcentre.co.uk 
SWMAS has now launched their Q2 2016-2017 Manufacturing Barometer Survey The Manufacturing Barometer is a quarterly survey that charts the experiences of English SME manufacturers. It is the largest survey of its kind and has informed both government industrial strategy and the national debate on manufacturing. Run by SWMAS since 2009 in the South West of England, the Manufacturing Barometer records trends in employment, turnover and investment. Each quarter, a 'special focus' explores an issue in greater depth. In the past this has included issues such as productivity, overseas production and energy efficiency.