Industrial Placements for this academic year 2019-2020
Wednesday 6th November, 2019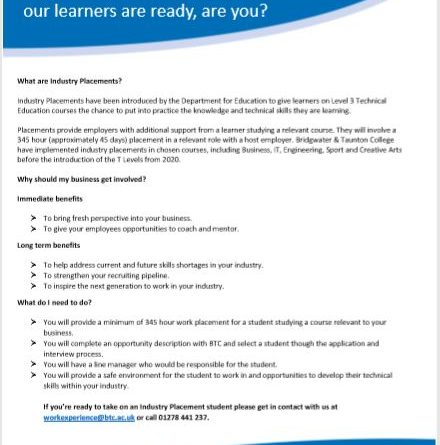 Bridgwater & Taunton College are looking for employers able to provide students, aged 16 to 18, with a 45-day industry placement in your workplace.
Industry Placements will become an essential element of a T-Level qualification. T-Levels are designed to combine study and practical work experience; they will follow GCSEs and will be equivalent to 3 A Levels. These 2-year courses have been developed in collaboration with employers and businesses so that the content meets the needs of industry and prepares students for work.
T Levels will offer students a mixture of classroom learning and 'on-the-job' experience during an industry placement of at least 315 hours (approximately 45 days). They will provide the knowledge and experience needed to open the door into skilled employment, further study or a higher apprenticeship.
For this academic year, 2019-2020 only, there is government funding available for employers to help overcome any barriers to offering Industry Placements. This funding can be used for Administrative costs, such as enhancing current systems to support delivery of a placement, Training costs, such as training current staff in mentoring students, or Tangible costs, including the purchase of equipment and resources that are used exclusively for the placement. The funding is up to £750 per student with up to 10 students per placement employer. The intention of the fund is to help employers build capacity to enable them to support students in subsequent years so whilst the funding is for one year only we do hope to see a longer term commitment from the employers that the fund has supported.
For further details please contact the Work Experience team on 01278 441237 or [email protected]