Jual teams up with gin distillery to produce hand sanitiser during pandemic
Thursday 18th June, 2020

As the UK went into lockdown in March many small businesses were forced to close up shop. The owner of Somerset-based Jual Branded Clothing, Alison Brown, was one of the few who was able to quickly adapt from the kitchen table.
"We'd always supplied PPE," said Alison, "but previously it was for specific needs such as face masks for protection from asbestos. The main focus of our business is designing and supplying branded clothing, school uniforms, workwear etc. So, we had to adapt and fast in order to survive."
Alison, who normally employs thirteen staff at the factory in North Newton, near Bridgwater, sat down to make a plan with daughter and Head of Marketing and Design, Olivia. The pair identified which products were going to be scarce and then set about finding the right suppliers.
They came across details for Colwith Farm Distillery in Cornwall, one of the south west's only plough to bottle facilities, which had just announced plans to switch from producing award-winning gin and vodka to WHO grade sanitiser. A phone call later and they knew they'd found the ideal partner.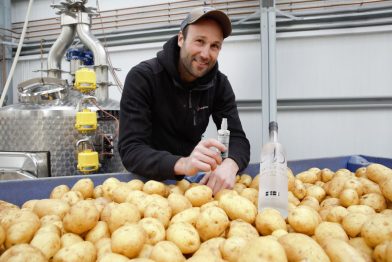 Distillery owner Steve Dustow had initially decided to give away his waste alcohol in response to the hand sanitiser shortage. Stocks were depleted in just 24 hours, with supplies going to frontline staff and those supporting the elderly and most at risk. Ensuing talks with HMRC saw the team fast-track approval to produce and distribute duty exempt alcohol for hand sanitiser throughout the coronavirus pandemic.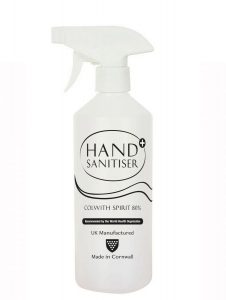 Steve said: "We are working in a hugely challenging marketplace where the core ingredients have proved difficult to procure, and prices have sky-rocketed at an exponential rate. At one point in order to keep up with demand and sidestep price hikes in the supply chain we started fermenting black molasses to produce ethanol. It's only thanks to our extensive resources and experience that we've been able to keep up."
The distillery team quickly found themselves using twice as much alcohol to produce the 80% hand sanitiser than would normally be used in the production of vodka and gin. From the start of the pandemic to the end of April they produced around 20,000 litres of hand sanitiser.
From the first phone call Alison said that "nothing had been too much trouble" for Steve. "It's been really fun working together," she added.
The partnership has led to Jual being able to supply face masks, gloves and hand sanitiser to customers including Western Power Distribution and Brewers, the UK's largest independent decorator's merchant.
"I am extremely grateful for this local trade during this turbulent time," said Steve, "it's enabled us to keep up operations when I thought we were going to have to shut the doors and risk losing everything I've been working towards for the last decade."
Having still not met in person, the Jual and Colwith Farm Distillery partnership is now firmly cemented.
"People running shops, restaurants, hairdressers . . . there are so many businesses that will need PPE over the coming months," said Alison, who is now happily back in her office at the factory. "We have the ability to source everything we need and I'm really proud to be able to champion the great business community here in the South West."
Telephone: 01278 661199
Email: [email protected]
Website: www.jual.co.uk