Fuse Somerset Outdoor Arts
Arts and Performance
52 Clare Stree,,
Bridgwater,
Somerset.
TA6 3EN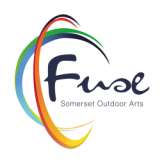 Fuse is a not for profit arts company based in Bridgwater that creates performances, installations, arts projects, parades, festivals and events in Somerset and in the South West.
In Bridgwater, Fuse organises the Bridgwater Quayside Festival and is a member of the Bridgwater Cultural Partnership. It also programmes Dunster-by-Candlelight in West Somerset. Fuse has been working in Bridgwater with the Bridgwater Arts Centre, community arts projects, parades and performances for over 10 years.

In 2019, through its work in Somerset and the South West, it engaged with 65,000 live audiences across a range of festivals, events and workshops that it organised, programmed and created performances for.

It is a member of the Bridgwater Cultural Partnership that includes Bridgwater Town Council, Somerset Film at the Engine Room, Bridgwater Library, Bridgwater Arts Centre, Blakes Museum, Bridgwater Carnival, Sedgemoor FM radio and Bridgwater and Taunton College. The company works with local schools and colleges and with communities in and around Bridgwater, developing projects, creating parades and making performances that take place at the Festival and at other community events.

The company also develops creative projects as a company with partner organisations making performances and productions in different parts of the County. Recently, for example, it helped create and perform the Ghost Train for the West Somerset Railway. It has also worked with Somerset Wildlife Trust on projects as wildlife and river projects.
It runs creative hubs training young people in creative and production skills supporting their professional practice and skills for employment and education.

As a company, it is keen to develop ideas and projects with the various communities and businesses in and around Bridgwater and Sedgemoor, especially with relationship to the Bridgwater Quayside Festival.