Professional Apprenticeships LTD
Schools and Colleges
Filwood Green Business Park,
Filwood Park Lane,
Bristol,
Somerset.
BS4 1ET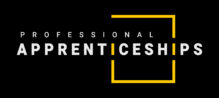 Your approachable apprenticeship experts in Somerset, Bristol and the South West
Why Choose Professional Apprenticeships?

We pride ourselves on the high-quality service we provide to our customers, whether it's the young person we are recruiting or the business they will be working in. We place more emphasis on the recruitment and matching process to ensure that both the young person and business can be sure they find the perfect match.

- South West Apprenticeship Provider of the Year 2021
- Free recruitment, Vacancy Promotion & Candidate shortlisting
- Government funded training through industry leading tutors
- National training provider that understands local business needs
- Opportunities for networking & hospitality
- Free training consultation – to discuss potential qualifications and training providers
- No more waiting for applications – directly search our pool of candidates.
The team at professional Apprenticeships really go out of their way to take the time to understand your business needs and find the best candidates to suit your ambitions for growth

Rich O'Brien, Head of Digital at Flex Digital