Sansum Recruitment
Recruitment
Viking House, Cheddar Business Park,
Cheddar,
Somerset.
BS27 3EB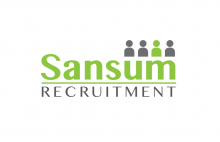 Collaborating well to identify and understand what YOU really need
It was during their very own recruitment jungle nightmare that Jason Woodcock and Gemma Sansum, who run a successful commercial cleaning business, became convinced they could do better. Thus, Sansum Recruitment was born!

Sansum Recruitment is a division of the Sansum Solutions Group, based in the heart of Cheddar.

Our unique way of working sets us apart from other recruitment businesses. We will be open, honest and provide transparency with a team dedicated to your recruitment search. We listen to what you need and we will always advise too. We have the vision to create a team in which you can trust to do the right thing for you – that's why we have such long-lasting relationships!

We have the ability to source candidates and vacancies across the UK from Trainee to Director-level. With Consultants that have extensive knowledge of the industry and array of sectors such as; Marketing, Sales, Finance, IT and Logistics, we really know how to identify what suits your needs.

Sansum Recruitment offer the opportunity to join us at networking events, where other local businesses can share their knowledge and really inspire one another. The team are always interested in hearing about fundraising or networking events you may be arranging so, please don't forget to let us know how we can support. Don't forget, we are on LinkedIn and Facebook so, you can keep updated with what we're up to.

Working with the Woodland Trust, Sansum will plant a tree, symbolising growth and prosperity, with each successful placement found, inspiring you with an opportunity as an organisation, to also be a part of doing something good for the planet.