Midas IBIS Hotel Construction
Tuesday 7th January, 2020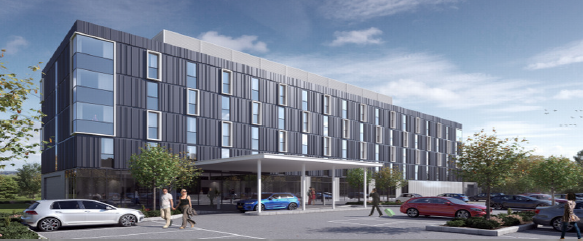 Works are still continuing apace on the new IBIS Red branded hotel for our client, Zeal Hotels (Bridgwater) Ltd. to construct a new IBIS Red Hotel and s-ll on target for opening next Autumn 2020. Once complete, the five storey hotel will have 144 bedrooms with a breakfast and restaurant area, bar area and conference rooms.
Since our September start, we have completed the installation of 186 pre-cast concrete piles, pile caps and ground beams to form the foundations and overseen the new steelwork frame that supports the pre-cast concrete structure that contains the bedrooms from 1st floor up another 4 storeys.
The last few weeks of December have seen us complete the necessary drainage points and ducts necessary for power, water and telecom supplies into the future hotel and complete two concrete pours to the ground floor slab. All this completed during some of the wettest weather for a long while [or it feels like it].