MP Ian Liddell-Grainger was talking to members of Bridgwater Chamber of Commerce at a Meet The MP event on Friday morning
Monday 15th April, 2019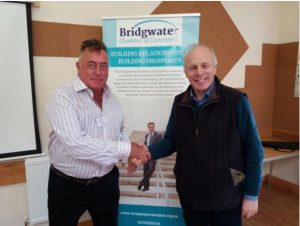 BRIDGWATER and West Somerset's MP has joined Conservative rebels calling for a leadership challenge, saying 'the Prime Minister's days are clearly numbered'.
MP Ian Liddell-Grainger was talking to members of Bridgwater Chamber of Commerce at a Meet The MP event on Friday morning when he made the comments.
Mr Liddell-Grainger said when he spoke to the Chamber just over six weeks ago he had backed Prime Minister Theresa May but said she had 'completely cocked it up'.
"There is a leadership challenge on the way, and before you ask, I do not know who I will be backing but there is a lot going on behind the scenes and the next three to four weeks will be crucial," Mr Liddell-Grainger said.
He said it needed someone from a professional background, and said he believed a customs union was a big sticking point as many of his fellow Conservatives believed this would limit the UK's ability to do trade deals with the rest of the world.
Mr Liddell-Grainger described the leaders of both the main parties, Theresa May and Jeremy Corbyn as 'stubborn and difficult to deal with'.
He praised Bridgwater, saying the area had completely changed in the last 20 years, describing it as a 'dynamic and amazing place', saying the area with increasing in opportunities and skills, and that the local schools were thriving.
He emphasised the huge opportunities of not only Hinkley C, but the Bridgwater Gateway, the Gravity energy park at Puriton and Notaro Park at J24.
However, Alfred van Pelt of Something Different Ltd, a wholesaler and importer of gifts based on Thistle Park, said Brexit uncertainty was having a big impact on his business.
"Around 75 per cent of our business is in Europe, and all this uncertainty has been detrimental," he said.
"We were planning to move to Bridgwater Gateway but now we can no longer afford it, and we end up with significantly higher tariffs due to Brexit we will have no option but to say goodbye to Bridgwater and set up shop in Slovakia or something."
Steve Leahy, Bridgwater Chamber of Commerce said the Chamber was working hard to try and make sure local small and medium enterprises could take advantage of the opportunities coming to Bridgwater but needed more involvement.
"The Chamber is like a gym- just joining won't make you thin, you need to actively participate to reap the benefits," Mr Leahy said.
"One example is we have fine businesses, but they do not have a digital footprint – large contractors want to look at a website when considering working with a supplier and this is something the Chamber can help with."
For more information visit bridgwaterchamber.org.uk