Nominate a community VIP to officially open The Old Vicarage
Thursday 23rd May, 2019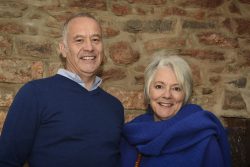 BRIDGWATER residents are (May, 2019) being asked to nominate a deserving member of the town's community to help officially declare one of the oldest hotels and restaurants in the town re-open.
The Old Vicarage, which is already open to walk-in diners and staying guests, is looking for nominations of people who are community heroes to help officially open its doors on June 8.
Peter Starling, Co-owner of The Old Vicarage on St. Mary Street, said: "Although we're already serving lunches and dinners and we've bedrooms we've refurbished available too, we've yet to officially host a grand opening event and we'll be doing this on June 8 from 6pm and we need a very special person to be our VIP for the day.
"We are looking for nominations for someone who does a lot for charity, who has overcome an illness or personal difficulty, who has inspired others or who works in a caring role. We would like to invite them along to our official invite-only launch evening to cut a ribbon and declare us open.
"We will also give the chosen VIP a free meal for two people, not including drinks, on a mutually convenient date. People can make their nominations via email to [email protected] with 'VIP Nomination' in the subject header. They should give details of who they wish to nominate and why.
"All emails must include clear contact details of the nominators with their address and telephone number. The winner will be picked at random and by being the nominator or nominee they have agreed to take part in publicity."
The closing date for nominations is Wednesday, June 5 at midnight.
The Old Vicarage is located in the town centre and has a south facing patio and garden within its central courtyard, which is accessed by an ancient archway, once used by horses and carriages and made in part from visible wattle and daub.
It is just one of the few Grade II listed buildings in Bridgwater and dates back to 1327. Husband and wife team Peter Starling and Candida Leaver are renovating the Grade II listed property section-by-section and have already re-opened the hotel's restaurant and kitchen as well as some bedrooms.
The Old Vicarage is currently open for lunches from 12.30pm until 3pm and dinner from 6.30pm until 9pm from Tuesday to Saturday and on Sundays for lunches from 12.30pm until 3pm.
People are welcome to drop in for a meal without booking a table.
The Old Vicarage's license currently only allows it to serve alcoholic drinks to people who are dining in the restaurant.
Before taking on The Old Vicarage, Peter and Candida owned The Bower Inn. They bought it in 2010 when it was a rundown and empty country pub and spent seven years revamping the inn's fortunes and creating a highly successful pub, restaurant and boutique hotel with an excellent reputation for ambience, customer service and food. They sold the business in November 2017 to the Butcombe Pubs chain.
Peter added: "The Old Vicarage is a charming building with some wonderful historical links to Bridgwater's past including reputably being the place Judge Jeffreys stayed and, also, providing lodgings for Isambard Kingdom Brunel, who designed the train station, also Grade II listed, and a bridge in the town. The hotel is at the very heart of Bridgwater and has desperately needed some TLC.
"We fell in love with it when we first looked around last year and have been working hard behind the scenes to get our trusted and loyal suppliers, and our award-winning team, back together again to take this venture forward.
"We're delighted we've been able to take this unique property on and are very excited about the prospect of offering something new to the discerning residents of Bridgwater, the surrounding area and, also, anyone further afield wishing to stay here. We're proud of Bridgwater and are really pleased we've been able to find another property for us to renovate and bring back to life in the town.
"Being part of the community is vital to us, so anyone who would like to drop in anytime we're open, from now onwards, can look around the property to see the work we've done. They can stop for a coffee or lunch or dinner if they fancy too."
For further details about The Old Vicarage, which is on St. Mary Street in Bridgwater, please call 01278 458891. Alternatively, please follow on Facebook at www.facebook.com/oldvicaragebridgwater or on Twitter @oldvicaragebri.