Northgate Yard taking shape
Monday 22nd November, 2021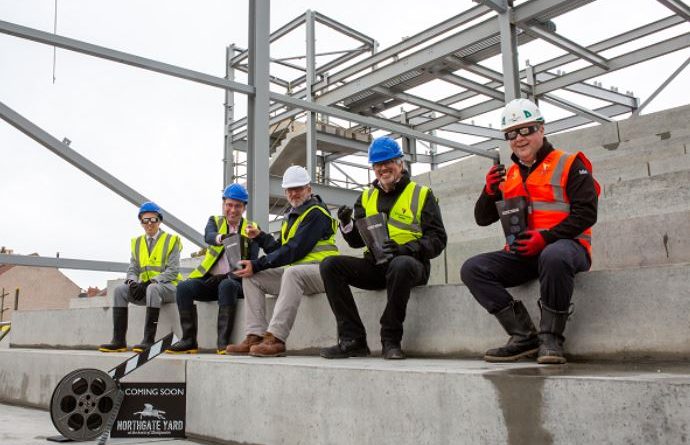 Northgate Yard, Bridgwater's brand-new leisure and dining hub, has reached a landmark moment in the development. The first terraced seating structure for the 7-screen Scott Cinema's complex has been installed, allowing both residents and visitors of the town to see Northgate Yard come to life. 
The pre-cast concrete for the cinema's auditoria seating has been manufactured offsite by the development's supply chain partners, Cornish Concrete Products, based in Bissoe, West Cornwall.
Alongside the erection of the cinema's steel framework and the commencement of the terraced seating structure installation, work is now beginning on the construction of the steel framework for the five restaurant units and for the ten-pin bowling alley and sports bar, which will be operated by regional company Allstars. Local supply chain partners, W. Haley Engineering, based at East Brent has provided the steel for the framework.
Doug Bamsey, Deputy Chief Executive of Sedgemoor District Council says: "We're really pleased to see this exciting development in Northgate Yard's construction. The installation of the cinema's framework and seating structure is a positive step forward and a brilliant, physical sign of what Northgate Yard will look like."
The next phase of construction will see preparation and installation of the cinema's roof and first floor steel deck, and further work on the rejuvenated Brewery Field scheme.
Northgate Yard is the culmination of many years of planning for a central entertainment and dining hub for Bridgwater. The development will provide restaurant space for five high quality restaurant units available to let to a mix of dining brands. Sedgemoor District Council have worked closely with the community to create and deliver a vision reflecting what the people of Bridgwater want to see and now is an important time to gather information for the dining element of the development.
Sedgemoor District Council are asking residents and visitors of Bridgwater to share their dining preferences in a short survey to aid the Northgate Yard team in making informed decisions for occupiers of the restaurant units. Those that complete the survey can choose to be entered into a prize draw to win a Scott Cinemas' family voucher. The survey closes on 19 November 2021, and can be completed by typing the following URL into your web browser's address bar: https://bit.ly/NGY_Survey
Northgate Yard is due to open in Bridgwater in autumn 2022.
For more information on Northgate Yard and its construction progress, visit www.northgateyard.co.uk