Now is your chance to claim your crown!
Friday 25th June, 2021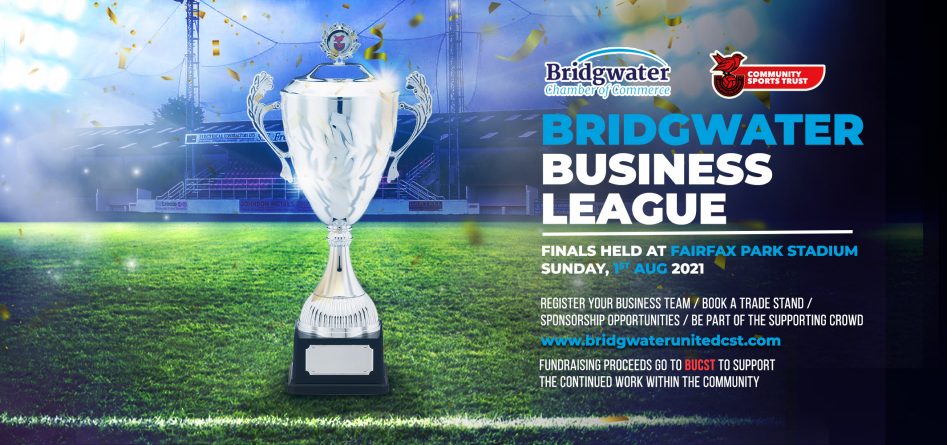 Are you the Best in the Business? A boss in the boardroom and on the pitch? Now is your chance to claim your crown!
In collaboration with the Bridgwater Chamber of Commerce, Bridgwater United Community Sports Trust are excited to announce the Inaugural Bridgwater Business League!
Boost your awareness in the community, increase team morale and improve employee wellbeing in a fun & competitive 5-A-Side football tournament which benefits the local community.
There are a range of ways to get involved in the Bridgwater Business League:
Enter A Team
Each team will be guaranteed a minimum of 2 fixtures, taking place between July 18th & July 30th at Bridgwater & Taunton College (Bridgwater Campus).
The final takes place at Fairfax Park on August 1st.
Entry per team is £250, with each team receiving promotional opportunities across our socials, website, event branding and a Festival Programme 1/2 page.
The winning team will win a pitch-side board for their business as well as getting their hands on the Bridgwater Business League Trophy!
Book A Gazebo Space
During our Festival day on August 1st, we have the final of the Bridgwater Business League and a friendly match between Bridgwater United & AFC Bournemouth Women at Fairfax Park.
Take advantage of the crowds and promote your business!
Volunteer
Support the Business League by volunteering to ensure that the tournament runs smoothly, administration, refereeing and general volunteer roles available.
Sponsorship
Show your support for local businesses and sponsor the Bridgwater Business League, allowing Bridgwater United Community Sports Trust to continue their work in the community.
'Pool' Player
Support local businesses by helping them to field a team, submit your interest to be called-upon when needed.
Limited time & spaces available
Ahead of the New 2021/22 Season Bridgwater United FC Women Bridgwater United FC
More ways than Ever to support the Community. 🙌 We couldn't do it without you.
Full details https://www.bridgwaterunitedcst.com/pitch-side-boards/