Paul joins S Roberts Group as Waste Manager
Thursday 28th April, 2022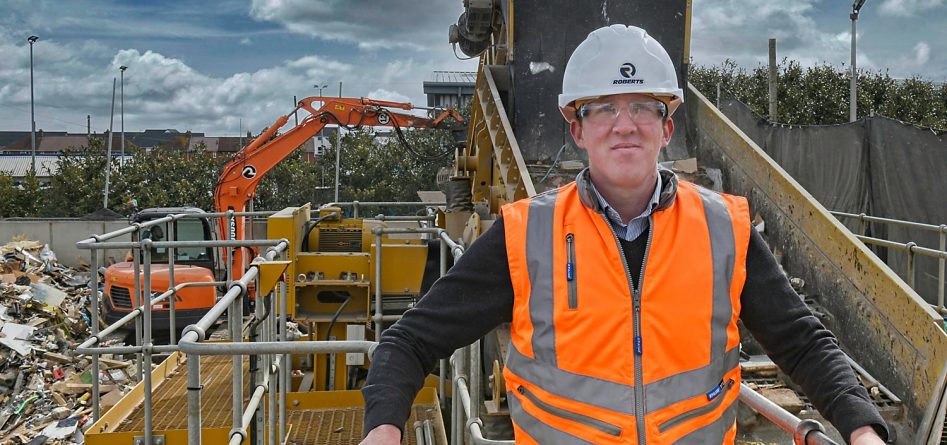 PAUL Rann from Clevedon has recently (April 2022) joined a Somerset family-run waste management company as its new Waste Manager.
In his new position at S Roberts Group in Bridgwater, Paul will be partly responsible for maximising recycling opportunities and monitoring and maintaining plant equipment.
He said:
"I am delighted to have joined the team at S Roberts Group and although I have only been here a short time so far, it is very clear that everyone is committed to doing the best job possible, everyone is pragmatic, and the team are great problem solvers. Customer service is truly at the heart of the business and I see that in action every day.

"Within operations, the variety of challenges faced on a daily basis means no day is ever dull. There's a great satisfaction that comes with overcoming challenges, finding solutions and being part of a highly engaged team."
As part of his position, Paul also controls and monitors operational waste receipt and dispatch consignments, ensuring accurate records and documentation are provided and available for inspection.
He ensures waste recycling plant and transfer stations operate in full compliance with applicable environmental and health and safety legislation, and new technologies and best practice, wherever possible. This helps minimise the company's environmental impact and aids its forward movement within the waste hierarchy.
As well as this, he manages operational human resources including the selection, induction, training payroll, appraisal and performance management of personnel, and manages the operation in line with budgetary requirements.
Paul is also the company's Technically Competent Manager and liaises with regulatory bodies as required and ensures client contractual requirements are complied with.
Originally from Merthyr Tydfil in South Wales, Paul attended Cyfarthfa High School and the University of Wales in Swansea, where he studied Chemistry with Analytical Science.
He began his career as a Hazardous Waste Chemist before moving into operational management. He has previously worked in a variety of positions, including at Grundon Waste Management, Biffa Waste Services and PMG Services.
In his spare time and when he is not busy with his eight-month-old daughter, Seren, he enjoys mountain climbing, camping, long distance running and skiing.
S Roberts Group's wealth of experience spans more than 90 years and is one of the South West's leading waste management companies. It provides specialist industry and geographical knowledge to advise commercial and domestic clients on the best possible waste solutions.
Beccy Roberts, Director of Waste Management at S Roberts Group, said: "We're thrilled to have Paul join us as part of the team. He has some fantastic experience and has already settled right in."
Based in Bridgwater, Somerset, the third-generation firm is run by sisters Beccy and Vicky, who took over the business from their father, Terry, in 2004.
The dedicated and friendly team work closely in partnership with clients to ensure health and safety standards are maintained and to deliver an efficient and environmentally conscious service.
The company offers skip, tipper and plant hire, bulk earth moving, grab hire, recycled aggregates, licensed asbestos removal and demolition services for domestic and commercial clients across the South West.
In 2006, it was the first demolition company in the Westcountry to launch a specialist and licensed asbestos removal service.
S Roberts Group holds its environmental considerations and solutions at the core of its business and adheres to these when advising and making decisions on the management of waste, resources, emissions and transport.
For further details, please call 01278 422521 or visit www.srobertsandson.co.uk.