PRIMARY SCHOOL CHILDREN CREATE HOARDING DESIGNS FOR NEW NORTHGATE YARD DEVELOPMENT
Thursday 29th July, 2021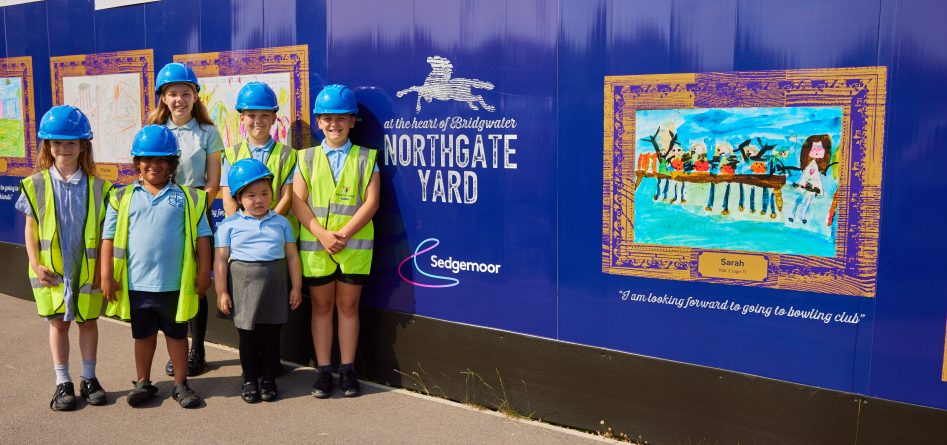 Artistic school children from Northgate Primary School have created designs for a 20-metre section of hoarding around the new Northgate Yard and Brewery Field development site. 26 designs from talented pupils have been selected in a competition run by Sedgemoor District Council and site contractors Willmott Dixon to decorate the section directly opposite the school.
The Northgate Primary children were asked to create hoarding designs showing the new Northgate Yard development and what they are most looking forward to when it opens. The winning and runner up designs from each class are now on the hoardings where they will remain throughout the construction process.
Katie Penny, head teacher, Northgate Primary School, says, "The children thoroughly enjoyed taking part in this project. They are excited to see their designs professionally displayed on the hoardings and are fascinated by the construction project going on behind them."
The winners from each class are:
Early Years Foundation – Xintong Y, age 5
Year 1: Faith R, age 6
Year 2: Sarah P, age 7
Year 3: Pedro AS, age 8
Year 4: Jake P, age 9
Year 5: Latisha H, age 9
Year 6: Lily W, age 11
Each class winner also received a family cinema voucher from Scotts Cinema for use in its current location before it moves to its state of the art, 7-screen cinema in the new Northgate Yard development.
Stuart Martin, Sedgemoor District Councils Northgate Yard Project Manager, says, "We are so impressed with the designs the children have created for the hoardings and really pleased they are able to be part of the exciting development. They are clearly excited and looking forward to being able to play in the playground in Brewery Field, go to the new cinema as well as the idea of bowling. We hope the winners and their families enjoy their cinema trips this summer and thank Scott Cinemas for generously providing family tickets as prizes."
Northgate Yard and will feature a 7-screen cinema, 8-lane bowling alley and sports bar as well as multiple restaurants and is due for completion in October 2022. The scheme will also feature outdoor meeting places and the adjacent green space, Brewery Field, will be enhanced to include an outdoor children's play area and parkland with a pond and landscaped planting. Led by Sedgemoor District Council, Northgate Yard has been conceived with the local community and local economy at its heart. The Council have worked closely with the community to create and deliver a vision reflecting what the people of Bridgwater want to see. 
For more information visit www.northgateyard.co.uk