Progress on New IBIS Red Hotel in Bridgwater.
Tuesday 25th February, 2020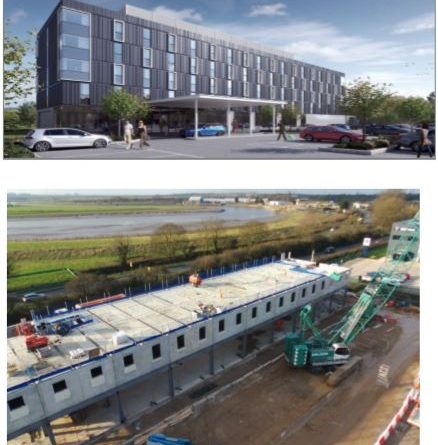 Works are still continuing apace on the new IBIS Red branded hotel for our client, Zeal Hotels (Bridgwater) Ltd. to construct a new IBIS Red Hotel and still on target for opening next Autumn
Once complete, the five storey hotel will have 144 bedrooms with a breakfast and restaurant area, bar area and conference rooms. We now have a large crawler crane set up on site to construct the building. This element of the build is one of the most critical as it gives us our building frame to work from. The building is constructed using precast concrete
walls and floor slabs which are manufactured by FPMcCann and erected by McVey Stone ltd.
January has seen us complete the erection and building of the 135 ton crawler crane on site and construction of floor one with all walls and slabs
installed along with 34 number bathroom pods from our local supplier, OSS. Associated grouting works with the precast concrete frame are ongoing throughout the duration of the frame build.