Robins Reveal Plans for Bristol Road
Thursday 6th May, 2021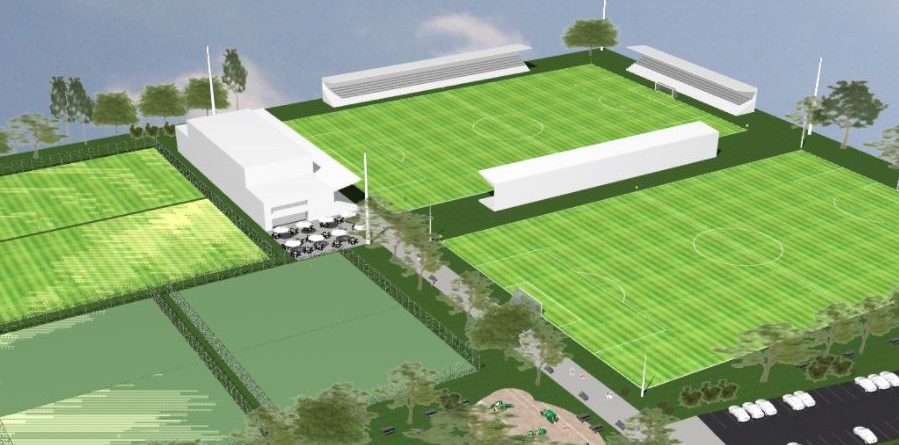 Bridgwater United Football Club together with Bridgwater United Community Sports Trust, are delighted to reveal plans in conjunction with Sedgemoor District Council, for the renewal and rejuvenation of the under used land located off Bristol Road.
The pioneering project at Bristol Road Playing Fields, will be the first of its kind providing a joint community and sports trust complex that will be the central location for Bridgwater United Community Sports Trust delivery programmes. The development will also establish a dedicated stadium and training facility for the Women's First Team of Bridgwater United FC, and joint Youth Academies.
The land is currently maintained by Sedgemoor District Council, with the main activity being a dog walking spot and is surrounded by housing on two sides. The other two sides enveloping the land are a railway line and a cemetery. At nearly 11 acres, the site once held multiple 11-a-side pitches for recreational sport and all parties involved are determined to deliver a valued community asset that will once again see sporting activity return to the site to address the current shortfall of football and sports related facilities within the town of Bridgwater.
As part of a wider overview of the project, improved footpaths and cycle ways along Bristol Road are planned to provide improved pedestrian access to the proposed development, reducing the reliance on motor vehicles.  Once inside the complex, people will be greeted by a community park with children's play areas, activity areas, enjoyable walking and dog walking routes, picnic areas, provision of an outdoor gym and a mixture of 5-a-side 3G and multi-sport hard-court playing surfaces and community football pitches. The newly built pavilion will service the park with toilets, changing rooms, classrooms and a café, providing a safe destination to enjoy leisure and recreational activities for all to enjoy.
These extraordinary plans will incorporate a state-of-the-art Women's Stadium for Bridgwater United FC Women that will be able to accommodate up to 3,000 spectators with a more than adequate parking provision. Having a dedicated stadium reaffirms The Club's ambition of competing in the top flight of the Women's Football Pyramid, The Barclay's FA Women's Super League (FAWSL) and it will become a destination point for football across the region. The stadium will also be constructed to allow for expansion should the need arise in the future with all scheduled maintenance of the entire self-sustaining complex met by Bridgwater United Football Club and its Community Sports Trust.
Both Bridgwater United Community Sports Trust and Bridgwater United Football Club are currently working towards a public consultation in partnership with Sedgemoor District Council with further details to be communicated at the appropriate time.
Commenting on this exciting announcement, newly appointed Bridgwater United Community Development Manager Oli Moore said, "All partners involved within this project believe that Bridgwater and the county of Somerset is a fantastic place to live and work. Our vision for Bristol Road Fields will showcase the pride we all have in our area by investing in our community. It will be a hub for all to enjoy and will bring health and wellbeing benefits with it."
Adam Murry, CEO of Bridgwater United FC commented, "Sport has this amazing, unique way of making a positive impact in society. Whether it's helping children, communities or even nations, sport makes a difference on a daily basis.
Sport and recreation is about helping build stronger, healthier, happier, and safer communities. Communities that participate in sport and recreation develop strong social bonds, are safer places and the people who live in them are generally healthier and happier than places where physical activity isn't a priority. The Bristol Road Playing field's proposal is a pioneering project that Bridgwater United FC with the help of Sedgemoor district council, will deliver a fantastic community and varied sports facility and serve as a destination point that Bridgwater and Somerset can be proud of.
With the Football Clubs stadium vison underway and ownership secured, the successful launch of the Bridgwater United Community Sports Trust and local support for this going from strength to strength, and launch of the Bridgwater United's youth Academies this month, it is a very exciting time that I am proud to be part of.
I would also like to express my sincere thanks to Tim Mander and the SDC leadership team, Bridgwater Town Council and all other relevant parties who are all determined to put the Bridgwater community at the forefront of their agendas, for their valued commitment in helping us towards achieving this fantastic vision for the community.
Chief Operating Officer Ewan Greenhill remarked, "This is a landmark complex for Bridgwater, Somerset, and the Country as a whole. Nowhere to our knowledge in the country does a Sports Trust have its own facility to deliver its practical life changing sessions nor does a football club operating anywhere in the Women's Football Pyramid have its own ground and training pitches. This complex will provide pioneering opportunities for all."
Chairman Bob Buckingham added, "This announcement further reinforces our strong commitment to our community and is another important milestone in what will, I am sure, be an exciting and inspiring journey to our success, both on and off the field"
SDC Quote's "Sedgemoor District Council has been delighted to work with both Bridgwater United FC and the newly formed Bridgwater United Community Sports Trust and is keen to support what is clearly an exciting and innovative project. Clearly there is some way to go before the project is close to delivery but the signs so far are very positive. The Council encourages the BUCST to continue to work with the local community and awaits the submission of a planning application with much interest".
Letters of support for this project have been received from The Football Association (FA), Somerset Activity & Sports Partnership (SASP), Sparks Somerset, Bridgwater Foodbank, Bridgwater & Taunton College, Association of Colleges (AOC) and many others.
For more information visit www.bridgwaterunitedcst.com