S Roberts Group invests in new material handler to boost recycling efficiency
Tuesday 31st October, 2023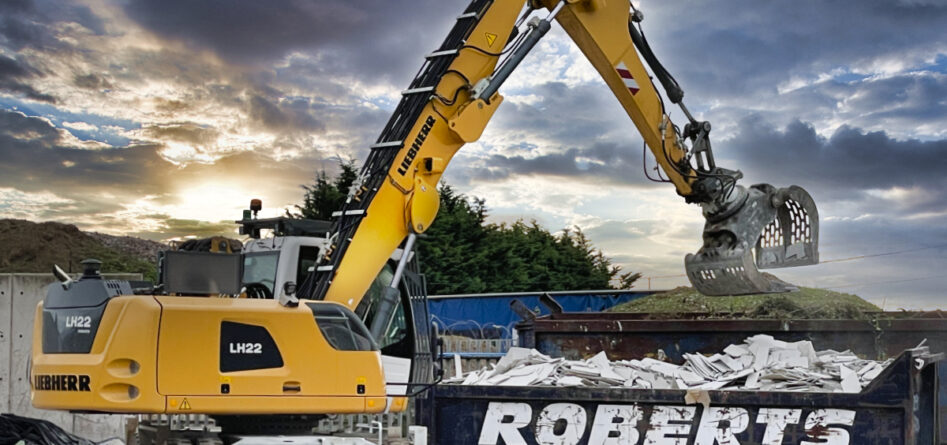 SOMERSET-BASED waste management company S Roberts Group has invested a quarter of a million pounds in a new Liebherr LH 22 M Industry material handler to help in its recycling area (November 2023).
The leading family-run Bridgwater company retired its old Liebherr machine and says the new equipment will boost fuel efficiency, which is better for sustainability.
Director of Waste Management, Beccy Roberts, says: "We were all very excited to have the new Liebherr arrive, especially our machine operator, who couldn't wait to start using it.
"It was essential we sourced the correct machine. Like all our equipment, the material handler gets put through its paces every single day and simply has to perform. After extensive research into the other market options from competing manufacturers, comparing many factors including performance, size, operational efficiency and cost, we made the decision to stick with the market leader and purchase this brand new Liebherr LH 22 M.
"We are confident this new investment, which is a massive one for us, will continue to be the reliable workhorse that its predecessor proved to be, while still allowing us that essential capacity for additional business growth as we develop and continue with our future goal to hit our recycling rates."
The LH 22 M Industry has a sturdy and compact design, which makes it particularly suitable for deployment in the area of recycling, which is where it will be used by S Roberts Group.
Beccy explains: "With the latest engine and hydraulics technology, developed in-house by Liebherr, the main focus is on fuel efficiency, which is really important for the environment and something we take very seriously, while at the same time enhancing material handling performance."
Based in Bridgwater, Somerset, the third-generation firm is run by Vicky and her sister Beccy Roberts, who took over the business from their father, Terry, in 2004.
The dedicated and friendly team work closely in partnership with clients to ensure health and safety standards are maintained and to deliver an efficient and environmentally conscious service.
S Roberts Group holds its environmental considerations and solutions at the core of its business and adheres to these when advising and making decisions on the management of waste, resources, emissions and transport.
S Roberts Group also offers skip, tipper and plant hire, bulk earth moving, grab hire, recycled aggregates, topsoil and demolition services for domestic and commercial clients across the South West. For further details, please call 01278 422521 or visit www.srobertsandson.co.uk