S Roberts Group trials electric skip lorry in drive to hit sustainability goals
Tuesday 3rd October, 2023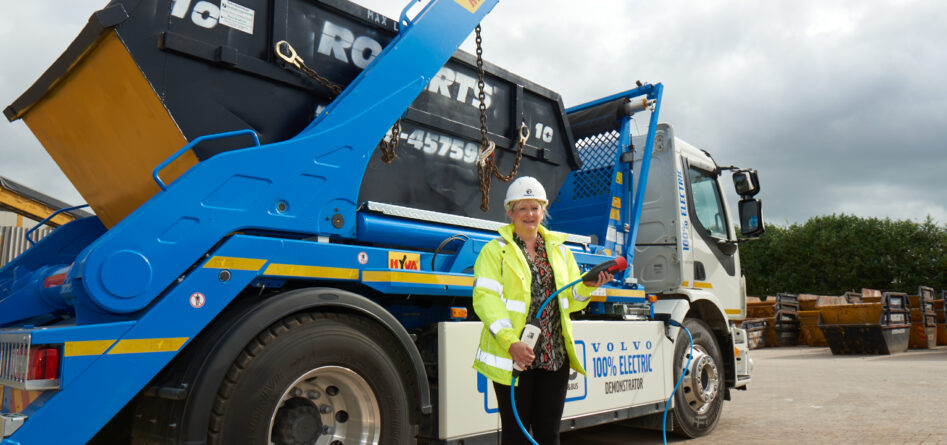 A LEADING Somerset waste management company has been trialling a new electric lorry to deliver its skips to customers' homes and businesses.
Bridgwater Chamber member, S Roberts Group added the FE Electric, which is the only Volvo Trucks' electric skip-loader available, to its fleet as a try-out thanks to Exeter-based Stuarts Truck & Bus.
Paul Callow, Transport Manager at the family-run Bridgwater firm, said: "As a waste recycling company, we're continuously looking for ways to improve our carbon footprint and reduce our environmental impact.
"We'd like to sincerely thank Stuarts Truck & Bus for giving us this exciting opportunity to trial this new fully electric skip lorry. The feedback from our drivers has been very good. They reported a smooth ride and great control – with no loss on performance when compared to a diesel vehicle."
During the trial, the Volvo FE Electric was used to deliver and collect skips to a wide customer base in and around Bridgwater.
Paul added: "As a planet-aware company, we're always looking at innovative ways to help us achieve our sustainability goals and were very fortunate to test out this zero-tailpipe emissions vehicle.
"During the few days we had it, we were hugely impressed by the quality of the lorry, and the fact that Volvo Trucks already has a full range of electric vehicles available. We're not yet able to change our current trucks but when we are, we'll be chatting to Stuarts Truck & Bus again.
"We're delighted to be trailblazers in this area; working towards helping create a greener future for us and our industry. We've been around for more than 90 years as a company and, while we're very proud of our heritage, we're also looking to the future for the next generation."
The Volvo FE Electric trialled by S Roberts Group was mounted with a multi-lift skip loader and powered by two electric motors, generating a peak torque of 850 Nm.
Driven by a two-speed transmission, the FE Electric's power is handled by a unique traction control system and has been developed to master even slippery surfaces. Different drive modes are available to set the desired performance, comfort, and energy usage levels.
It can be recharged in just 2.3 hours using the 150kW DC charger.
S Roberts Group's wealth of experience spans more than 90 years. It's one of the South West's leading waste management companies. It provides specialist industry and geographical knowledge to advise commercial and domestic clients on the best possible waste solutions.
Based in Bridgwater, Somerset, the third-generation firm is run by Vicky and her sister Beccy Roberts, who took over the business from their father, Terry, in 2004.
The dedicated and friendly team work closely in partnership with clients to ensure health and safety standards are maintained and to deliver an efficient and environmentally conscious service.
S Roberts Group holds its environmental considerations and solutions at the core of its business and adheres to these when advising and making decisions on the management of waste, resources, emissions and transport.
S Roberts Group also offers skip, tipper and plant hire, bulk earth moving, grab hire, recycled aggregates and demolition services for domestic and commercial clients across the South West.
For further details, please call 01278 422521 or visit www.srobertsandson.co.uk.