Sansum's Skydive Dunkeswell September 2021
Friday 14th May, 2021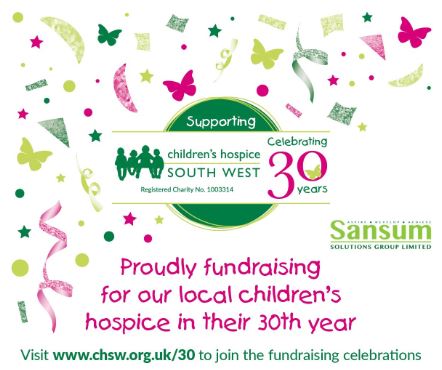 Sansum Solutions Group Limited a double award winning commercial cleaning contractor in the heart of Somerset, will see three of its management team skydive from 15,000 ft on 25 September 2021 in support of the charity Children's Hospice South West. 
Jason Woodcock, Managing Director, Jennifer Wilson, Business Development Manager and Rachel Porter, HR Manager of Sansum, have all volunteered to brace themselves and prepare for a 120 mph freefall lasting up to a minute, taking place at Dunkeswell Honiton, before gliding back down safely to the ground again.
Jason Woodcock stated, "we have chosen Children's Hospice South West as one of our local charities to support this year, recognising the crucial service and support that they provide to children, their siblings and families making the most of short and precious lives through the provision of the best possible hospice care". 
CHSW are celebrating their 30th anniversary year and have 3 dedicated hospices situated at Charlton Farm, Somerset, Little Bridge House in Devon and Little Harbour in Cornwall.  Each hospice provides children with life limiting conditions and their whole family respite, short breaks, emergency care and palliative care, including end of life care and bereavement support, continuing this support even during such challenging times we have faced during the Covid pandemic.  Sansum's skydive is just one of many fundraising events they are engaging in this year, hoping to raise as many donations as possible in support of the ongoing work of this Charity, without which, many of these children and their families simply could not do without. 
Sansum have raised 25% so far of its £1,500 target.  Donations in support of their charity skydive can be found following the link here  Sansum Solutions is fundraising for Children's Hospice South West (justgiving.com)