Sedgemoor celebrates the poll result
Thursday 10th June, 2021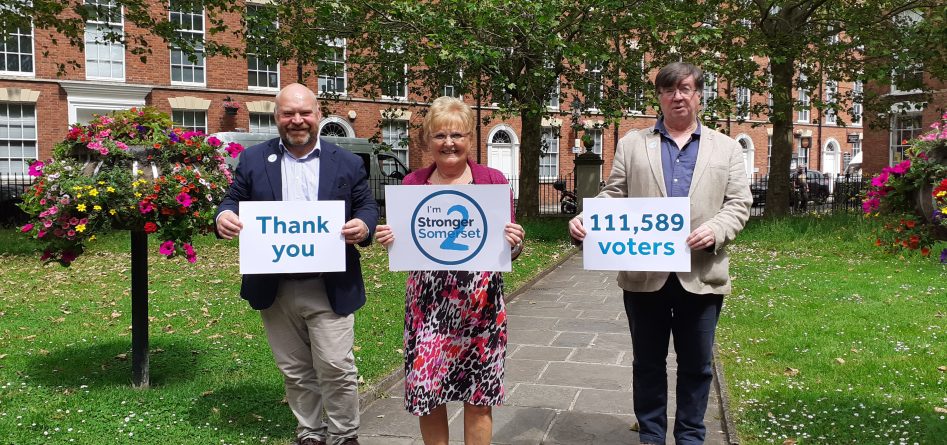 The leaders and a representative from the political parties who make up Sedgemoor District Council joined forces to thank those 111,589 voters who took the time and trouble to vote in the recent local poll regarding the future of local government in Somerset.
There was a resounding result in favor of Stronger Somerset which gained 65.3% of the vote versus 34.7% for One Somerset. This demonstrated the strong cross-party feeling that has been evident all through the process.
The success of the poll demonstrates to Government that Somerset residents wanted to have their say, in a referendum which focussed on them, rather than key stakeholders and organisations.
Cllr Gill Slocombe (Con) said "Thanks to 25.6% who voted. We will make sure that their views are heard and respected. After all, it is Sedgemoor residents who pay their council tax and who are at the forefront of all the services that SDC provides for them. The poll demonstrated that residents wanted to let the Government know that they want their council to be local and listening to them, rather than one mammoth, distant organisation. This is a resounding victory of the Stronger Somerset proposals in the referendum. It was a spectacular result with greater democratic legitimacy than the recent Police and Crime Commissioners election by percentage turnout. We have the plan for the county's needs – now and into the future. We need reform, not just cost-cutting. We are very grateful to those who took part. Thank you."
Cllr Brian Smedley (Lab) said "That's a clear 2.1 victory for Stronger Somerset, more democracy, more accountability and a clear rejection of this ridiculous idea of one over large council and for a county that recognises its diversity. It's a vote for local government, for people knowing their councillors and for more power back to the communities. My worry is that Secretary of State Jenrick will just ignore it and plough ahead with a cuts agenda and we'll end up with the remote feudal option that David Fothergill and the Medievalists have been peddling. However, if he does that now it's in the face of a popular vote telling him not to!"
Cllr Bill Revans (Lib Dem) said ""I am delighted to see that two out of three Sedgemoor voters (who expressed a preference) wanted their council to be local. I was the only Sedgemoor Councillor that also sits on Somerset County Council to vote against the One Somerset proposal. Stronger Somerset is clearly the better option: creating a council that is big enough to cope, yet small enough to care.
The poll result has demonstrated widespread public support for Stronger Somerset and Robert Jenrick, the Government Minister who will make the final decision, must now listen to the people of Somerset."
Cllr Paul Fineran (Ind) said "We feel completely vindicated in our determination to hold the poll. There have been numerous detractors and many spurious attempted to derail the process, but the voice of Somerset people has been heard. Let's hope the powers that be are listening loud and clear.
Full results were
| | | |
| --- | --- | --- |
| Stronger Somerset | 72,561 | 65.3% |
| One Somerset | 38,547 | 34.7% |
| Total votes cast | 111,589 | |
| Invalid votes | 481 | |
| Total votes counted | 111,108 | |
| Total eligible voters | 436,607 | |
| Turnout | 25.6% | |