The Old Vicarage Hotel is Top Dog
Wednesday 21st April, 2021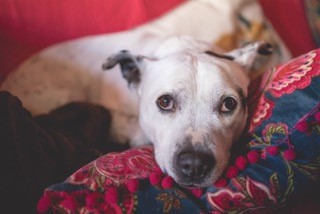 Did you know that April is #NationalPetMonth #NPM21, celebrating and raising awareness of responsible pet ownership. The theme this year is Pets and People: caring for each other.  
As a result of caring for all their doggie guests (and their owners) the Old Vicarage Hotel in Bridgwater has just won the Gold Award for Bristol, Bath and Somerset Dog Friendly Business of the Year 2020/21.
This will be welcome news to those whose dogs are part of the family and want somewhere new to stay, eat, drink or even marry in Somerset. Candida Starling owner said "'Dogs are family here at The Old Vicarage and just like family we want them to have the best and most fun holiday possible. So, we have dog beds, towels, treats and pooh bags ready for them when they get here. We also have a hand drawn map of local doggies walk. We have tables in the restaurant and bar when you dog can join you for supper. They can also be with you whilst you relax in our cosy sitting room. Come and stay with us and let your dog live the 'doggie dream holiday'. Oh, and you all as well".
You can support National Pet Month, run by National Office of Animal Health and Pet Food Manufacturers' Association, by visiting www.nationalpetmonth.org.uk and find out why The Old Vicarage won the best dog friendly business by visiting www.oldvicaragebridgwater.com.