"Topping out" ceremony has been held to mark the completion of the new Premier Inn hotel
Friday 18th January, 2019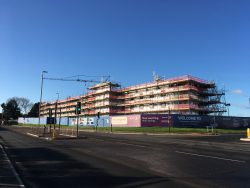 The 100-bed hotel is due to open later this year and will create more than 30 jobs. It is located on one of the prime road frontage plots on the 100-acre mixed-use site, which is just off Junction 24 of the M5.
Bridgwater Gateway is the newest business park development on the M5 corridor. The first phase will feature a range of new office and commercial buildings, together with a new 150-bed, four-star hotel with conference facilities, in addition to the Premier Inn.
Phil Wade, Development Manager for Bridgwater Gateway, said: "The topping out ceremony marks the completion of one of the key elements of the scheme.
"This Premier Inn hotel will help to meet the huge demand for rooms in and around Bridgwater which is being created by the construction of Hinkley Point C power station, and the proximity of Bristol Airport."