WELCOME BACK to Sedgemoor!
Friday 4th June, 2021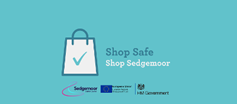 #ShopSafeShopSedgemoor is being managed by Daffodil PR and Communications, supported by the government and the European Development Fund with the message now focussed on welcoming people back to high streets and shopping areas across the district.
Over the past few weeks, we have seen all high street businesses across the Sedgemoor district able to open again for business, although with some restrictions still in place.
Please see below a quick reminder of the government's roadmap for hospitality businesses and venues.
Indoor areas of hospitality venues can reopen for groups of up to 6 people or larger groups consisting of no more than 2 households. This includes:
restaurants
pubs
bars, including those in hotels or members' clubs
social clubs
cafes and canteens
Hospitality venues providing alcohol for consumption on the premises, such as pubs and restaurants, will be required to provide table service. Venues that do not provide alcohol for consumption on the premises, such as certain cafes, may permit customers to order from the counter, but any food/drink must be consumed whilst seated.
Venues are prohibited from providing smoking equipment such as shisha pipes, for use on the premises. View further guidance for hospitality venues.
Performance arts venues such as cinemas, theatres, and concert halls may reopen. This also includes outdoor performance venues which have also been required to close until Step 3. See further guidance on performance arts.
We are currently working our way across the whole district, delivering #ShopSafeShopSedgemoor branded window stickers to every high street business. We are trying to speak to businesses, but this isn't always possible so, if you find one in your letter box, please pop it in a prominent position in your window or door. This will show the public that Sedgemoor High Streets are once again safe places to shop, eat and relax. If you find one in your letter box, please pop it in your window or door. If you are not in a town centre, but would like a sticker, please drop us an email with your address details and we will post one out to you.
#ShopSafeShopSedgemoor has a strong social media presence on Facebook and Instagram, with posts regularly going out on both platforms to remind people to shop safely, to shop locally and to welcome people back into our high street shopping areas.
We would be grateful if you could like and follow both platforms, tag your posts #ShopSafeShopSedgemoor, and promote the message wherever possible. Please also feel free to share our posts to your stories where you can.
As always, please feel free to get in touch with us if you need any further information about Shop Safe Shop Sedgemoor. We are here to help you, your members, their business, and their customers, to stay safe and to promote high street shopping areas across Sedgemoor as safe places to do business.
Best wishes,
Sharon and Livvi Grant
Daffodil PR and Communications on behalf of Shop Safe Shop Sedgemoor Email: [email protected]