Gavin Roberts ACA FCCA – Treasurer
Maxwells Chartered Accountants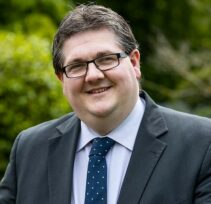 Helping you and your business thrive, ad-hoc financial director! Plain English speaking Accountant who is accessible and on the side of business.
Gavin joined Maxwells in 2004, he developed his career whilst training 'on the job' from 'tea boy' through to qualifying as an ACCA Accountant in 2008. Gavin is currently the South West President for the Institute of Chartered Accountants in England and Wales (ICAEW).
As a Partner, Gavin works with owner-managed businesses in the SME sector helping them to develop their business assisting with accountancy, taxation and business advice. Gavin is a frustrated entrepreneur and likes nothing more than getting fully involved in his client's businesses, helping them to develop, whether that is through strategic business advice, sound taxation planning or simply being the go-to guy on all matters business related.
Gavin is musical theatre fan and supports the arts, treads the boards and is passionate about this is his down time.
To learn more about Gavin and what the team at Maxwells Chartered Accountants can do for you, please visit the website