Bridgwater Chamber of Commerce Hustings Evening
Wednesday 29th April, 2015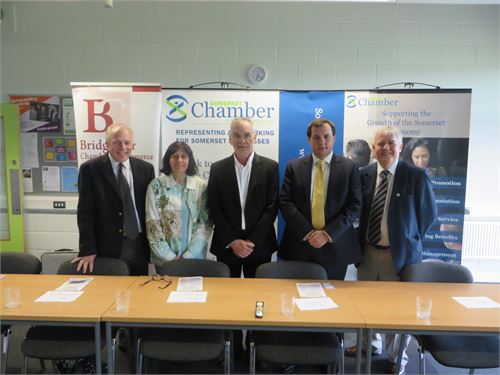 On the 14th April a pre-election hustings evening was held in the excellent Bridgwater College facility at the Cannington Agricultural Innovation Centre.
The Bridgwater Chamber of Commerce is committed to providing members with the opportunity to be heard and was therefore delighted to welcome the five candidates to outline their party views and answer questions put to them at the meeting.
On the panel, in alphabetical order of party, were Ian Liddell-Grainger (Con), Julie Harvey-Smith (Green), Mick Lerry (Lab), Theo Butt Philip (Lib) and Stephen Fitzgerald (UKIP)
A buffet started the evening in an informal atmosphere and once the show got on the road each candidate was invited to give a brief overview of themselves and what their party is promising to the business community.
A good selection of questions followed covering a number of topics such as super-fast broadband, support for apprenticeship schemes and business rates. A good attendance enjoyed a lively discussion conducted in the best of atmospheres.
It was good to see the commitment of all five parties to the Bridgwater business community and our thanks to them for their forthright answers to some telling questions.
The candidates outlined that they would work with the Chamber following the election on 7th May to further your views.
Additional photos of the event can be found at on the Somerset Chamber website.