Bridgwater Chamber Supports Local members Mental Health in Agriculture Campaign
Monday 1st June, 2020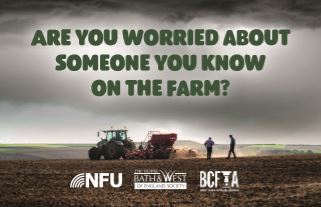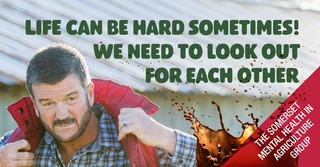 It has been said that the psychological and social impacts of the Coronavirus pandemic are likely to outlast the physical symptoms of the virus. This is a particular issue within the agricultural and veterinary industry, as whilst UK farmers are renowned for the attention they give to their livestock, crops and machinery, it appears they do not have such a good track record when it comes to taking care of themselves and their own wellbeing.
To help tackle this issue, farmer support groups have teamed up with mental health professional, Becky Wright (founder of New Leaf and member of Bridgwater Chamber of Commerce) to create The Somerset Mental Health in Agriculture Group and to provide resources for those visiting farms to help support with mental health issues. Group founder, Becky says: "Farming is one of the loneliest industries in which to work. With the added financial and political challenges, most of which cannot be influenced by the farmer, it is no wonder that the industry experiences one of the highest levels of poor mental health. We hope that this group, our first project, and others that will follow, will provide some tools to support those closest to the farmers to seek the right help and guidance."
Becky initiated The Somerset Mental Health Group in Agriculture following a similar project that she had developed specifically for the construction industry. The idea is that those visiting farms will have resources available to them to be able to communicate with farmers about mental health, or to be able to signpost them to places of support.
The first project developed by the group is an easy-to-read pocket-sized Z-card information flyer that sets out some of the symptoms of mental health and what to look out for in a family member, colleague or friend. It also contains information of who can help – the Farming Community Network (FCN), the Royal Agricultural Benevolent Institution (RABI) and the Samaritans.
The Z-cards will be distributed by the group's stakeholders as well as through the farming intermediaries such as accountants, livestock auctioneers and agriculture merchants, and through memberships of the NFU, the Royal Bath & West Society and the Bristol Corn & Feed Trade Association, each of which has made a financial contribution to the project. An online version of the flyer has also been developed that will be sent out through a range of social media outlets and e-newsletters. In Bridgwater you can pick up a copy at Mole Valley farmers.
Bridgwater Chamber of Commerce has supported this campaign via social media and helped to spread the message.
For more information visit
https://www.newleaf.uk.com/news/sowing-the-seeds-of-mental-health-for-those-who-care-for-our-crops-and-food/
Z card online version
https://www.newleaf.uk.com/wp-content/uploads/Farming-Mental-Health-Z-Card-for-screen-v3-VISUAL.pdf