Bridgwater 'Virtual' Carnival 2020 – 'Best of the Best'
Tuesday 3rd November, 2020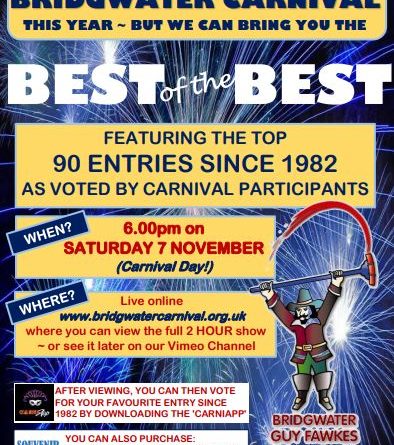 We may not be able to hold our historic Carnival that normally fills our streets here in Bridgwater, but Bridgwater's Carnival Committee have pulled out all the stops to bring us a carnival with a difference!
7th November 2020 @ 6pm – "Live" on YouTube
8th November 2020 – Available on Vimeo
9th November 2020 Available on DVD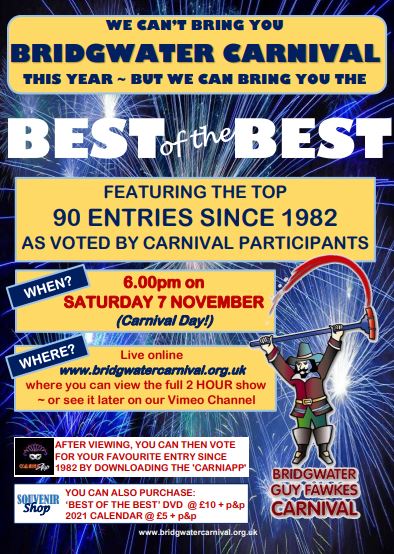 PUBLIC VOTE
Based on the 88 entries in the Virtual Carnival, you now have the chance to vote for your personal favourite.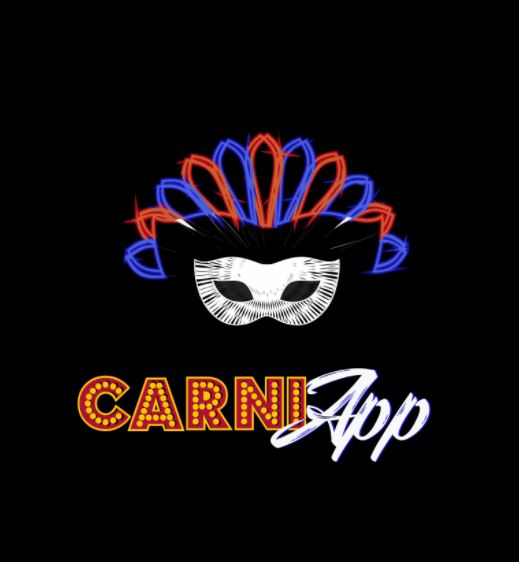 All you need to do is download a special free app produced by SGS United Kingdom – Customs Services called 'CarniApp', which is readily available from the App Store or Google Play, and vote on what has been your favourite entry. You can only vote once, and voting closes at midnight on 30 November 2020. Your vote will help determine the best ever entry to grace Bridgwater Carnival. Get voting now.
DVDs
Dvd's of previous years processions are being made available for online viewing and from 8/11/20 the Best of the Best DVD will also be available on Vimeo.VIDEO –
Wondering what Bridgwater Carnival is all about, watch the clips from the 2020 Promo Video
In a hurry have a glance at Bridgwater Carnival 2019 in just over two minutes!