College Seeks to Create 300 New Apprenticeship Opportunities in 100 Days
Tuesday 6th April, 2021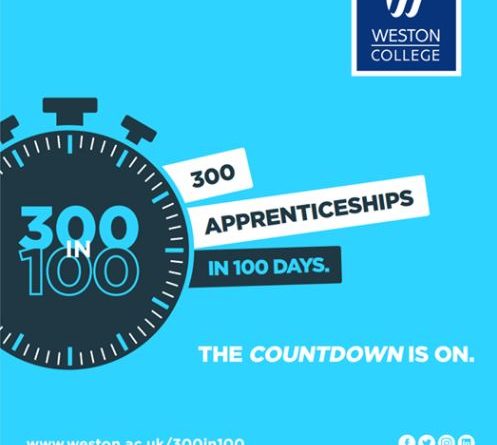 Weston College has set an ambitious target of achieving 300 apprenticeship opportunities, in just 100 days.
Following the Coronavirus pandemic, youth unemployment has risen by 13%, with a further 785,000 people under 24 on furlough. This campaign is seeking to create brighter futures for young people, businesses, and the wider community, to help us build back better.
Also, any employer who decides to hire an apprentice between 1st April 2021 and 30th September 2021, can access government incentives, of up to £4,000.
Dr Paul Phillips CBE, Principal and Chief Executive of the Weston College Group, said: "The whole business landscape has been flipped upside down over the last 12 months, and this campaign is seeking to help employers' access new skills, whilst committing to changing someone's life.
"One of the most effective ways of bringing a new generation of employees to your company or investing in your current workforce training is through apprenticeships. Our employer network and our learners have benefited hugely from apprenticeships, and we are excited to help even more people improve their lives through this campaign."
Throughout the campaign, the College will be sharing success stories, that you can keep track of on social media, by using #300in100. You can pledge your support for the campaign, and find out more about apprenticeships, here