Meet the Contractor Event
Wednesday 1st September, 2021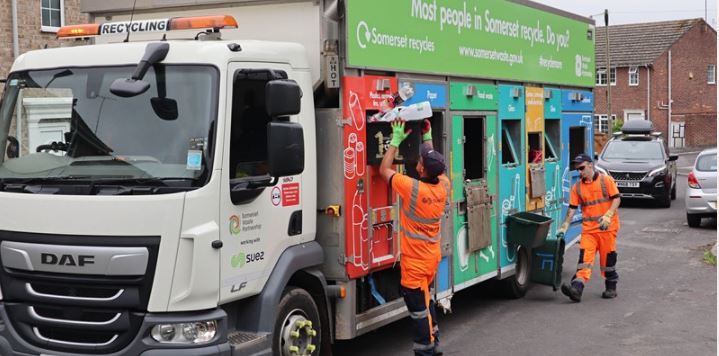 Following on from previous successes, there is now the chance to learn about job opportunities with global company SUEZ. This is being offered by way of a virtual event next month.
Organised by Under Construction, the Employment and Skills Team at Sedgemoor District Council and Somerset West & Taunton's Community Employment Hubs, the session will give an overview of current vacancies, a behind the scenes look at SUEZ and the benefits they offer followed by a question and Answer session. The event will take place online via Microsoft Teams on 15th September offering two sessions; the first session will be between 11:00-12:00 and an evening session between 19:00-20:00.
Somerset West and Taunton's Skills Lead said "This industry is a vital part of our communities, the teams at SUEZ were keyworkers throughout the pandemic but services have been affected with the national driver shortage and Covid-19 which is still prevalent in the area". The local councils are keen to support the recruitment drive, "joining this team can provide individuals with a stable future" a spokesperson from SUEZ said. The refuse and recycling collections performed by SUEZ are part of a long-term contract with Somerset Waste Partnership.
Anyone who is interested in attending the free virtual event on Wednesday 15th September should register online:
Register here for the 11am session.
https://www.eventbrite.co.uk/e/meet-the contractor-suez-11am-start-registration-168076825309
Register here for the 7pm session.
https://www.eventbrite.co.uk/e/meet-the-contractor-suez-7pm-start-registration-168115240209
Sedgemoor's Employment and Skills Officer says; "Whilst we know there can be barriers to online events, we know of many schemes through partner organisations to support people, including our own projects delivered at Under Construction If you need a device to attend, Somerset Libraries have an iPad loaning scheme".
You can find out more about this service here: https://www.somerset.gov.uk/libraries-leisure-and-communities/libraries/library-facilities/borrow-ipad/
Under Construction and the Community Hubs are also available to help people across these districts. For more information please contact:
Sedgemoor area: [email protected]
Somerset West and Taunton area: [email protected]