MESSAGE FROM LOCAL CATERERS , SOMERSET LARDER
Monday 30th March, 2020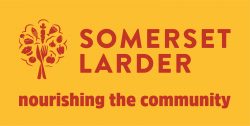 We have a Central Production Kitchen ( CPK ) set up at J24 of the M5 , which is producing meals on a very large scale to support the Hinkley Point build project over the coming years .
Therefore , the CPK is available to help and support others during this period of need ; it could be Care Homes , Schools , Hospitals , or any other entity requiring our help .
We could support with provision of any of the following :
Bulk ready meals .
Salad boxes .
Soups .
Sweet pots .
Hot puddings .
If you need help along these lines , please do contact our Culinary Lead , Martin Smith on 07761 022371 or [email protected] .
If you're looking for a simple supply of produce , on any scale , with delivery direct to you , our suggestion is to visit one of the following websites :
www.pynethebutcher.co.uk or  www.auberginekitchen.co.uk
Do have a look at their websites to see the range of what they can provide . We are all here to help , where we can .