The Old Vicarage in Bridgwater has new owners.
Tuesday 29th January, 2019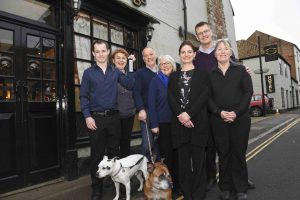 THE OLD VICARAGE hotel and restaurant in Bridgwater has new owners it has been revealed this week (January 28, 2019).
Husband and wife team Peter Starling and Candida Leaver are renovating the Grade II listed property section-by-section starting with the restaurant and some of its 20 en suite bedrooms.
Candida said: "We'll remain open throughout the refurbishments and guests should rest assured it's business as normal! We're taking bookings for those wishing to stay over and are honouring all bookings made with the previous owners.
"The Old Vicarage is a charming building with some wonderful historical links to Bridgwater's past including reputably being the place Judge Jeffreys stayed and, also, providing lodgings for Isambard Kingdom Brunel, who designed the train station, also Grade II listed, and a bridge in the town. The hotel is at the very heart of Bridgwater and it desperately needs some TLC.
"We fell in love with it when we first looked around last year and have been working hard behind the scenes to get our trusted and loyal suppliers, and our award-winning team, back together again to take this venture forward.
"Anyone who knows us from our time at The Bower Inn will appreciate we're sticklers for standards and details, and that it is vital we update the décor and upgrade facilities here at The Old Vicarage as soon as possible.
"We'll be keeping the hotel open while we work on the various sealed-off areas and, rest assured, there will be minimal disruption to guests who have already booked in to stay with us this spring. We will be providing the same breakfast offering, facilities and level of service until the work is complete."
Peter, Candy and team hope to have the restaurant renovated and re-opened in March and some of the rooms relaunched in April, with the rest to follow in May.
"We're delighted we've been able to take this unique property on and are very excited about the prospect of offering something new to the discerning residents of Bridgwater, the surrounding area and, also, anyone further afield wishing to stay here. We're proud of Bridgwater and are really pleased we've been able to find another property for us to renovate and bring back to life in the town.
"Being part of the community is vital to us, so anyone who would like to drop in anytime we're open, from now onwards, can have a free coffee and biscuit on us and a look around the property to see the work we're doing.
"We're also keen to hear from anyone locally who might be able to help us with providing additional car parking for guests. We already have several options available to give us more spaces, but it would be good to explore all avenues."
The Old Vicarage is located in the town centre and has a south facing patio and garden within its central courtyard, which is accessed by an ancient archway, once used by horses and carriages and made in part from visible wattle and daub.
It is just one of the few Grade II listed buildings in Bridgwater and dates back to 1327.
"In time we will be giving all areas of the property a makeover including the entrance ways and the gardens. One of the bedrooms will be converted to create a guests' sitting room and in some of the rooms we'll be offering additional, luxury, special touches including robes and slippers and Nespresso coffee machines. There will be the chance for pet owners to bring their dogs to stay too with dog beds, bowls, treats and emergency kits including poo bags."
Before taking on The Old Vicarage, Candida and Peter owned The Bower Inn. They bought it in 2010 when it was a rundown and empty country pub and spent seven years revamping the inn's fortunes and creating a highly successful pub, restaurant and boutique hotel with an excellent reputation for ambience, customer service and food. They sold the business in November 2017 to the Butcombe Pubs chain.
"At The Bower all our bedrooms featured chic vintage furniture and accessories, some dating back to the 1820s, mixed with all the requirements a modern traveller would expect. We'll be bringing our flair for design and our knowledge of the market and what the discerning customer expects to The Old Vicarage too.
"As hoteliers, we're very flexible and will go that extra mile to welcome our guests and be accommodating. Being a small, friendly, family-run, independent operation means we are highly proactive and customer-focused. We have an excellent team in place, but do need some other experienced professionals, so anyone interested with experience should check out our website or get in touch."
For further details about The Old Vicarage, which is on St. Mary Street in Bridgwater, please call 01278 458891 or visit www.facebook.com/oldvicaragebridgwater.