The Wonderful World of Stainless-Steel Handrails
Tuesday 18th February, 2020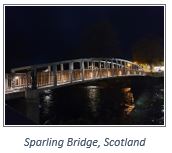 We often get asked the question, "What's the difference between 304 and 316 stainless steel?" At Footfall Engineering we use 304 and 316 so I thought it might be a good idea to explain in everyday terminology what these two terms mean.
In metallurgy, stainless steel is a steel alloy, with a minimum of 11% chromium content by mass and a maximum of 1.2% carbon by mass. Stainless steels are most notable for their corrosion resistance, which increases with increasing chromium content.
Stainless steel is rolled into sheets, bars, wires and tubing to be used in many different ways. It can be steam cleaned and sterilised and so is an excellent material to use in public spaces, hospitals, care homes and train stations. At Footfall Engineering we use stainless steel to manufacture our bespoke handrails because it can be formed into various shapes and is extremely hard wearing, as well as being used for indoors or outdoors.
We use two different grades of stainless steel, 304 or 316 stainless steel. So, what's the difference?
304 stainless steel is the most versatile and widely used stainless steel. It has a higher corrosion resistance than regular stainless steel and as well as being used for handrails, is used for a variety of household and industrial applications e.g. sinks, saucepans, screws and machinery parts.
316 stainless steel is a marine-grade stainless steel and is resistant to certain types of corrosive environments e.g. next to water. Most recently we have supplied 316 stainless steel handrails to Sparling Bridge in Scotland and this grade of steel was used due to its proximity to water. 316 stainless-steel is also stronger at elevated temperatures and is used for making furnace parts, heat exchangers and jet engine parts.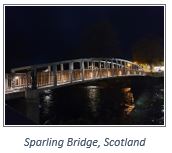 Although both steels are durable and corrosion-resistant, 316 stainless is often the choice for high-stress situations. In 2019 we manufactured handrails for Limehouse Train Station, London, and as these handrails are used by 1000s of commuters a day, 316 steel was unquestionably specified by TfL (Transport for London).
Often the grade of steel used is specified by our customers but if you are unsure, we are always on hand to offer advice and guidance. We want you to be completely satisfied with your choice and be in complete control of your project.
We are based in Williton, Somerset, next to the beautiful West Somerset Railway Station. As a local manufacturing company, we are extremely keen to work with local builders and suppliers and are always more than happy to discuss your project with you.
If you would like to look at some of our completed projects please look at our website www.footfallengineering.co.uk or call Paul/ Lesley on 01984 249 359